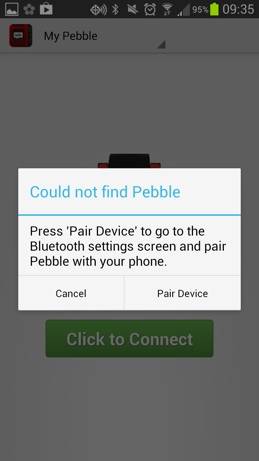 Pebble launched their Android app back on January 24 and it looks like an update has since arrived. This update isn't brining any new features, however it should be welcomed by those who happen to already have a Pebble on their wrist and have been having issues getting it paired. Simply put, this is a bug fixing update.
Specifically, this update brings two fixes. The first is a bug fix that should take care of an issue that caused some Pebble watches to become undiscoverable. The second fix deals with device support. As for this, the Pebble team has simply adjusted the Play Store listing that caused the app to list certain devices as being incompatible.
Those two points out of the way — this update brings the Pebble app up to version 1.6.8 where it remains available for devices running Android 2.3.3 or later. Otherwise, aside from these two fixes, it seems that not every handset is going to work perfectly. In fact, the Pebble team has also identified an issue that some Samsung users with Android 4.0 may be experiencing.
According to the details coming from Pebble, "some" Samsung users with Ice Cream Sandwich "may find that their device starts speaking after enabling the Pebble accessibility service." The cause of this is said to be a Samsung bug that affects all third-party accessibility services. For those dealing with this issue, there hasn't been any timeline given as to when a fix can be expected, however the Pebble team has said they are "currently waiting on a fix from Samsung."
[via Google Play Store]