The latter part of 2016 and early 2017 have been transition periods for popular Android custom ROMs. The most obvious was the demise of Cyanogen and the movement towards Lineage OS. Paranoid Android, another popular ROM, put out an update to Marshmallow around June last year after a long period of silence. Since then, they've fallen off the radar again. But there may still be signs of life here.
Three days ago, Paranoid Android's Google+ account posted an image with the text "paranoidandroid" alongside the hashtag "#stayparanoid". The image was faded out, but an "O" symbol can be spotted – and fans got excited as they say it might allude to a revamped version of Paranoid Android's unique "Pie" navigation controls. Some of them were even hoping for an update to Nougat.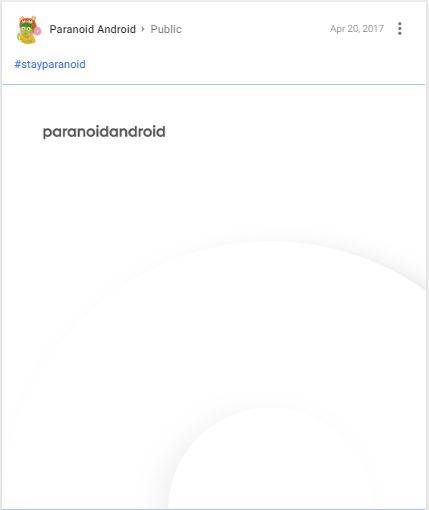 But PA's project lead Arz Bhatia gave out an explanation as to the status of the custom ROM development in the post's comments:
"Just to clear out a few things – We try to release builds when they're stable enough to be called public releases and abandoned the concept of nightlies a long time back. Paranoid Android 6 was released when it was stable enough for daily use and was updated only when there were critical bug fixes needed. Due to the lack of manpower, we shifted our focus from features first to stability first.
By head count, we only have 3-5 active developers working on the project – the team is still amazing but we lost a few of our key members a while back.
Paranoid Android is still a community project, it's free to use and open for all. The developers working on the project do it for the community with no profit-making involved. I'm here to represent my team and the comments over here are not really helping in motivating them to continue working on the project.
We're passionate about building good products and we only release when we've reached the level of goodness, perfection & stability that we had in mind when we first started working on the project."
The explanation did not give any clear direction at this point, nor did it say anything about an upcoming update. PA fans will just have to wait this one out, although like them, we're getting a bit worried about the project as well.
SOURCE: +ParanoidAndroidCorner