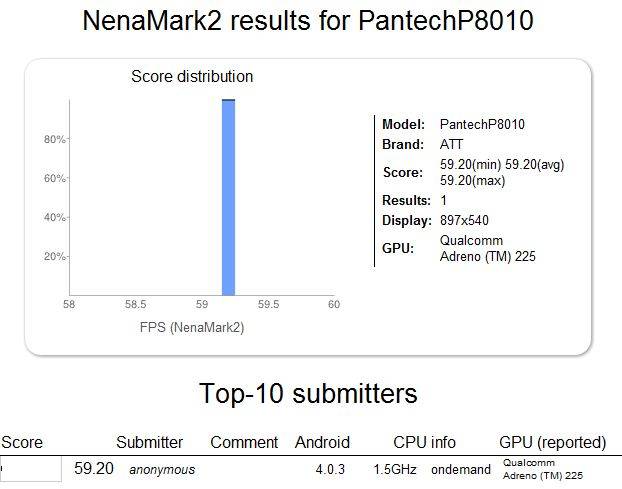 Manufacturers have some exciting high-end phones headed to Ma Bell in the next few months, but before today we hadn't counted Pantech in that number. Consider us surprised, then, to see the previously unknown P8010 pop up in the NenaMark benchmark database. Not only does the information show it to be running a 1.5Ghz dual-core Snapdragon S4 processor, but it's also got Ice Cream Sandwich and AT&T's LTE wireless bands on board. That's a long way from a confirmation, but it's a pretty good indication that it's headed to the United States soon.
Other details for the P8010 were revealed in the benchmark, like a 960×540 screen of indeterminate size (probably in the 4.3 to 4.5-inch range) and a Qualcomm Adreno 225 GPU. The score itself is pretty telling, as it stacks up well against most of the current phones out there and headed to retail in the near future. The exact model of CPU isn't disclosed, but I'd be willing to bet that it's the same Qualcomm MSM8960 that'll be showing up in the LTE version of the HTC One X.
Pantech has been making progress in the US, notably with the help of AT&T. Earlier this year they released their first Android tablet, the Pantech Element, and promptly got a package deal with the mid-range Pantech Burst phone. Up to now their high-end offerings had been limited to South Korea and the greater Asia market, but it looks like they're expanding their range to complete with other mid-level brands like Huawei and ZTE. Competition is a wonderful thing. Let's hope we get a better look at the P8010 in the flesh soon.
[via Androinica]