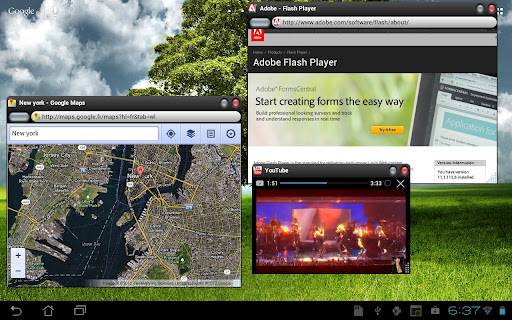 Mobile apps are full screen, because phones have small screens. That little bit of conventional wisdom drive a lot of app design… but since 7 and 10-inch tablets are now available in droves, not to mention some very large phones as well, perhaps it shouldn't be. That's the thinking behind the OverSkreen Browser, which breaks out the Android browser from the binds of full-screen oppression to roam all over your tablet screen, making friends with the apps running underneath it.
The idea is pretty simple: the app launches multiple browser windows ("instances" in Android speak) that can run independently and concurrently with just about any other app. The experience is not unlike using a standard web browser on a desktop, if not quite so refined. The app works with all versions of Android 2.2 and later, though obviously it's better suited for Honeycomb and Ice Cream Sandwich tablets than smartphones. You can buy it for an introductory price of just $1.49, half off today only.
As you might have guessed, OverSkreen comes from the same people who made Stick It!, an Android video player along the same lines. Naturally, OverSkreen is a lot more useful: it can handle anything that the stock browser can (though Flash support is only for Honeycomb and Ice Cream Sandwich. This seems like the perfect compliment app if you plan to do some desktop-style docked browsing.
[via Redmond Pie]