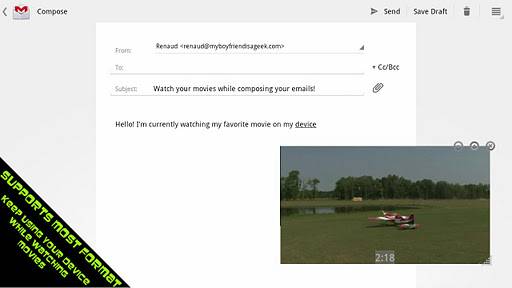 Desktop media fiends will no doubt be aware of most full-sized OS' ability to display video and other windows at the same time, making multi-tasking and entertainment possible. While this isn't exactly ideal on a mobile screen, it's  now possible, thanks to "Stick It! Free your Player !" [sic] from ambitious developer MBFG. The app pops out video into its own small window on your smartphone or tablet, and the window stays above new apps, allowing you to work or browse while still enjoying a local video file.
The window is small – only about 1.5 inches diagonal on the Galaxy Nexus – and allows you to drag it around the screen just like a Windows, OS X or Linux program. This in turn allows you access app controls that are temporarily "beneath" the video player, making nearly full control of almost any app possible while still keeping your video going. It can even play multiple videos at time, thanks to its widget-style player windows. It works on just about anything, including (usefully) tablets.
https://www.youtube.com/watch?v=NjuOLBRvxCM
The video windows are resizeable, and a series of multi-touch gestures that allow dragging and navigation controls. This might not seem overly useful, but consider tutorial videos or newsreels where the actual video isn't totally essential, and you can see the utility that the developer had in mind. It is a paid app, going for $1.49 at the time of writing. Reviews are almost universally positive at the moment – just don't use it with Navigation like one of the provided screenshots.
[via Reddit]