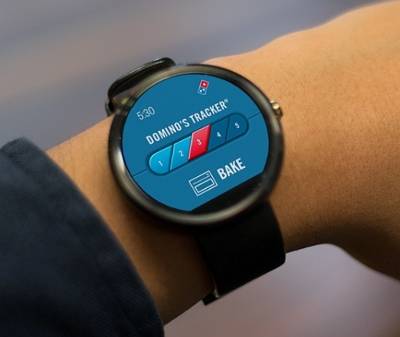 When restaurant chains started having apps so you could order through your smartphone or tablet, admit it, you kinda wished that someday, your wearables will follow suit. Well, that "dream" has finally come true, and if you are a fan of Domino's Pizza, then you're definitely in for a treat. The innovative pizza chain has come out with an app for smartwatches running on the Android Wear platform, and your delivery order is now just a few swipes away.
This is their first appearance on a smartphone, and they're probably one of the first food retailers to actually come up with an app that can run on something that is on your wrist. In order to use the app, you need to have an existing Pizza Profile on Domino's, with a saved Easy Order or even a recent order. Of course they can't actually fit the menu on a watchface so your order needs to be pre-set already, and so far, those are the only options you have.
You can even follow the progress of your delivery through the Domino's Tracker. It will show you every stage of your pizza delivery's journey, from the time you placed your order until the time it's en route to your house already. The pizza chain has been one of the consistently digital food retail brands, introducing ordering apps for smartphones and tablets, aside from being able to order from their website.
https://www.youtube.com/watch?v=Ltne3nd0bQo
The Android Wear app is just the first in Domino's Easy Order innovations that they will be introducing this year. You can get the app from the Android Wear app store. It is also available for Pebble smartwatches.
SOURCE: Domino's