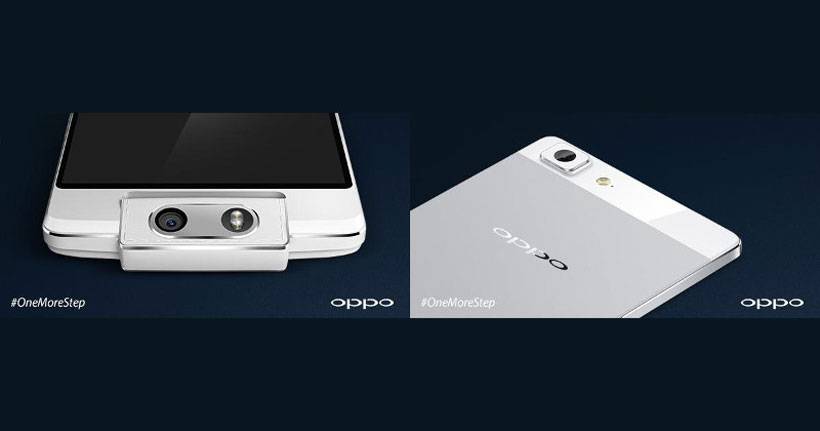 Oppo has been teasing us with the N3 smartphone and its rotating camera for a while now. Thankfully, the tease is over with Oppo unveiling the N3 officially today and spilling all the beans on what the device has under the hood. The N3 wasn't all the Chinese maker had to offer, it also unveiled the Oppo R5.
The official details on the Oppo N3 include the rotating 16MP camera packing a 1/2.3-inch sensor. One of the cooler features of the camera for people that like to take panoramic shots is that the rotating lens can be set to move itself slowly taking those panoramas without the user having to move the camera.
The N3 packs a 5.5-inch screen with 1080p resolution and uses a Qualcomm Snapdragon 801 processor. Power comes from a 3000 mAh battery and it has a fingerprint scanner. Pricing for the N3 is set at 3999 RMB, or about $654 in the US.
As for the Oppo R5, this smartphone is one of the thinner devices out there, and may have the title of thinnest to its name with a profile 4.85mm thick. It has a 5.2-inch screen with 1080p resolution. Power comes from a Snapdragon 615 processor, which is a 64-bit octa-core unit operating at 1.7GHz. The rear camera is a 13MP snapper and power comes from a 2000 mAh battery. Pricing for the R5 is set at 2999 RMB or about $491.
OPPO R5 specifications:
– Android 4.4.x
– Processor: 1.5GHz Qualcomm Snapdragon 615 Octa-Core
– Display: 5.5-inch Full HD AMOLED
– Size: 148.9 × 74.5 × 4.85 mm
– Weight: 155g
– Battery: 2000 mAh
– 2GB RAM / 16GB internal storage
– 13 megapixel + 5 megapixel camera
– 5 megapixel front facing camera
– Bluetooth 4.0
– WiFi a/b/g/n
– no headphone jack
– no microSD card slot
SOURCE: Slashgear