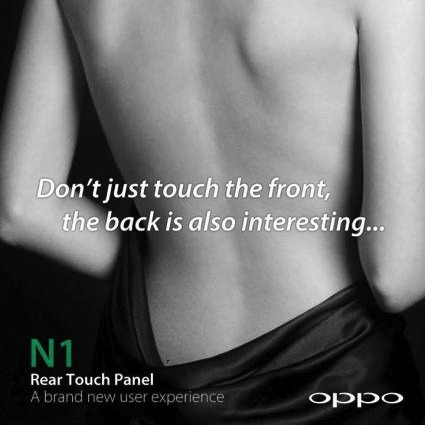 The LG G2 isn't the only device coming out later this year that will feature an unorthodox design for the button layout. Backside touch controls is a new approach with fingerprint scanners, sensors, volume control, and other possibilities. The popular manufacturer Oppo has been throwing around hints about their upcoming N1 camera phone, and we've just received a few more this week.
I'm going to go out on a limb and say these ads or teaser images are just as unorthodox as having buttons on the back, but I like it. The LG G2 will be the first device to market with such a feature, as you saw in our hands-on, and now Oppo will be joining them later next month with their own flagship smartphone. The N-series.
On Monday we received word that Oppo will be revealing their new flagship device next month, and hopefully launch it at the end of September as well. At first we thought it would be all about the camera, since they're calling it a "camera phone" but now they're hinting it will have a "rear touch panel" as well as a brand new user experience.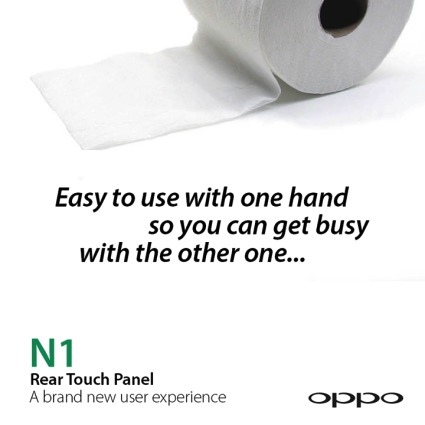 The Oppo N1 is rumored to pack a 5-inch 1080p HD display, and will likely run the latest Snapdragon 800 2.3 GHz quad-core processor with 2GB of RAM. We've seen pictures of the bottom with a similar speaker grill layout to the iPhone and the G2, aiming out the bottom. There's a few renders showing a huge lens on the rear, but we have a feeling it'll be a lot smaller.
Reports suggest a 12 or 16 megapixel camera using their new "Owl" technology for superior low light performance, and it will also sport a Xenon flash, among other things with the new user interface. I don't know about you guys but between the sexy lady and the comical roll of toilet paper above, we're excited to see what this phone is all about.