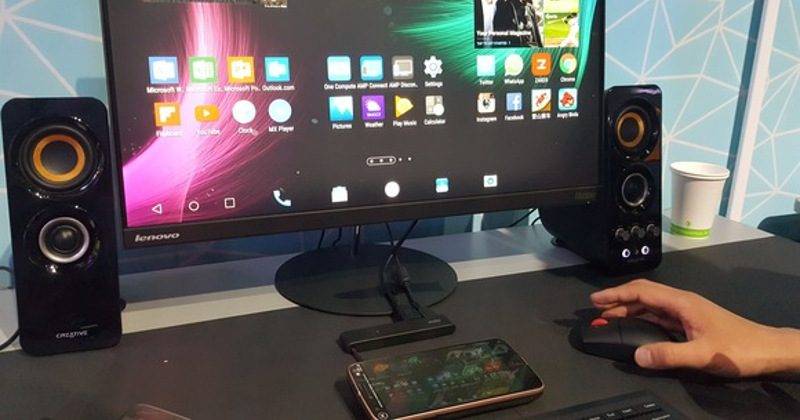 We were wondering about those contact points at the back of the Moto Z when the leaks started coming out, now we know they're for modular accessories that you can connect to Motorola's newest smartphone. One of these mods is called OneCompute, and it connects a Moto Z or a Moto Z Force phone to a display and gives it desktop-like capabilities, much like Microsoft's Continuum for the Windows 10 phones.
The Moto Mods attaches to the back of the Moto Z smartphone, and OneCompute is no different. But you also have to connect two other things once that's done. First is a dock, second is a hub where the dock connects to, and the hub also has three USB 3.0 slots, an HDMI port and a power slot. This combination is how the phone's UI is projected onto a screen, via HDMI, of course. Also, the whole contraption charges your phone while it's connected.
The "desktop" UI is very much Android in how it looks like, and OneCompute project leader Xiaobing Guo says that they made some changes to the Android launcher program. The result a duesktop-like UI that actually looks good on a big screen. You'll have to use a keyboard and mouse for desktop operations – the test used a pair of Bluetooth peripherals – and there was surprisingly very little lag on the operations.
It's not really clear what changes Motorola made to Android for, but there are features that are very Windows-like. OneCompute allows for windowed apps, and information can be cut and pasted from app to app. Android N will have something like this, but it's good to see Motorola trying something new for a change. Will you want to use something like this?
VIA: PC World