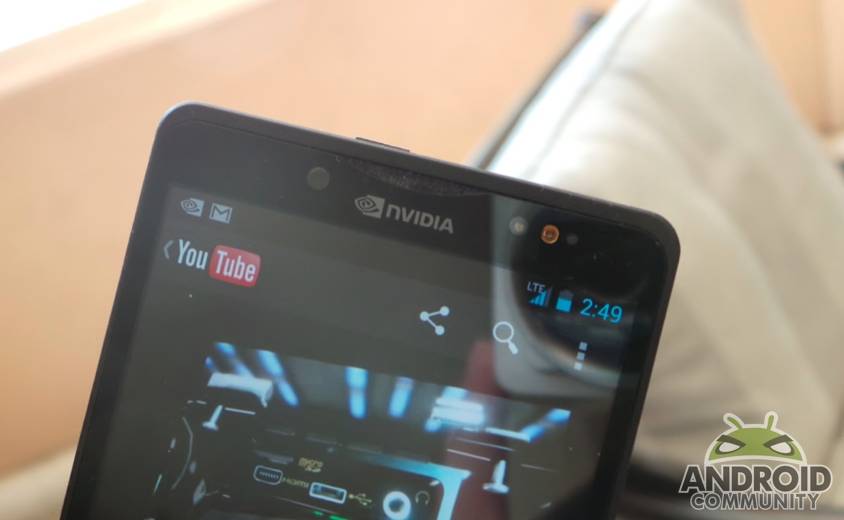 This week NVIDIA has its Tegra 4i processor delivering mobile data speeds as the company has never been able before, complete with an integrated i500 LTE modem first delivered here, on the Tegra 4 platform. With the NVIDIA i500 LTE modem integrated in to the Tegra 4i, NVIDIA has demonstrated speeds of up to 150Mbps with an emulation of an LTE Cat 4 network.
This demonstration is done with an emulation on one end due to the fact that no local LTE Cat 4 network exists at this time. The demonstration is done with the NVIDIA Phoenix smartphone platform – the same device we saw earlier this year at Mobile World Congress 2013. This device is not one that normal consumers will be able to get their hands on, instead being used for oddities like this and by developers looking to optimize for the Tegra 4i.
NVIDIA also took the opportunity this week to demonstrate how the Phoenix is able to run on a live AT&T LTE network in Las Vegas, this time showing off video streaming as well as voice calls. In areas where 4G LTE at a Cat 4 level isn't available, the Tegra 4i's i500 modem will be working with LTE Cat 3, 3G, or even 2G. This is backwards compatibility with multi-mode abilities in effect.
NVIDIA's i500 modem inside the Tegra 4i is 40 percent the size of the average conventional LTE modem as it is designed with DXP – that is Deep Execution Processors. This same technology was shown at Mobile World Congress pushing through 100mbps over Cat 3 – since then only a software update has occurred.
The big deal here is that NVIDIA's software-defined radio is at work, allowing for ability boosts like this without the need for new hardware. Changes over to new bits of technological compatibility with software alone spells high adaptability for NVIDIA-toting devices of the future!
[VIA: NVIDIA]