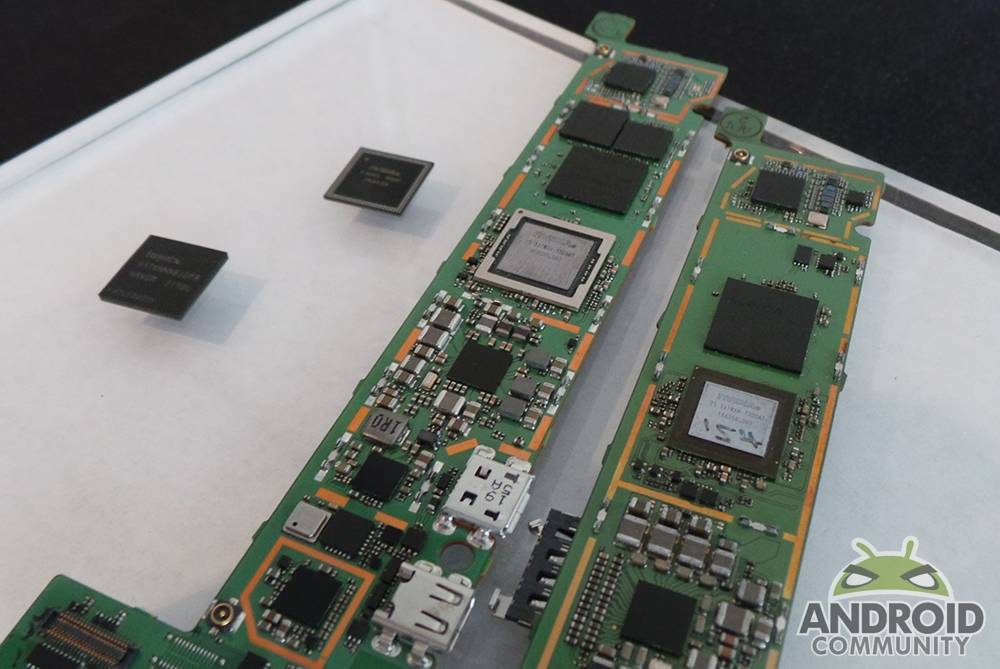 Back during CES the folks at NVIDIA announced their all new Tegra 4 quad-core mobile processor to take on the world. Then last week they revealed the new Tegra 4i with 4G LTE, as well as a new Phoenix reference smartphone platform. Now, this week at MWC we've had an opportunity to take a peek at their new superchip complete with benchmarks and plenty of pictures and video below.
NVIDIA's new quad-core Tegra 4 with 72 GPU's for amazing gaming performance is here present in a few reference tablets (not for sale) as well as their just announced Phoenix reference smartphone. For starters this is not final software, is in the early stages, but still gives us an idea of what to expect moving forward from team green. We got a quick glance at Real Boxing on the Tegra 4 – which looks amazing – as well as a few other games.
For starters this video below is the Phoenix reference phone running their 2.3 GHz quad-core Tegra 4i, which will hit the market later this year complete with integrated 4G LTE. The phone here is a 5-inch 1920 x 1080p display, 2GB of RAM, 13 megapixel HDR camera, and super thin. Just like NVIDIA detailed last week, they hope this reference design will help companies bring high-end smartphones with the Tegra 4i to market faster, and for under $300 off contract.
The game isn't quite available yet, but this just shows the true power of the quad-core Tegra 4 and all those dedicated GPU cores for some of the best mobile gaming available. Their Project SHIELD will bring this to life even more with dedicated game controls. So far we're still awaiting more announcements for Tegra 4 devices — but surely they are coming soon.
Next up as mention above is another game. This however is running on an unknown reference Tegra 4 tablet made in-house from NVIDIA. This is streaming the popular THD game Zombie Driver, only the entire game has been redesigned with true 1080p HD gaphics and full Tegra 4 support. Lets just say it looks freaking stunning. Then of course we're using a game controller for an even better experience.
Then we tried to gauge potential real-life performance, but these all being reference devices without true power limits for day to day usage it was hard. We also weren't able to grab screenshots but managed to run Quadrant, as well as the popular AnTuTu benchmark. Lets just say this superchip was impressive. Topping over 36,000 in AnTuTu and Quadrant was off the charts. Yes, that is 16,000 in Quadrant. The Tegra 3 barely broke the 8,000 mark after heavy heavy tweaking and overclocking. This Tegra 4 is a beast.
We'll be on the lookout for additional details and devices running the new Tegra 4 processor, but so far our initial impressions are pretty good. If NVIDIA can get these into smartphones and tablets in a timely manor things will be looking good. Stay tuned for NVIDIA news at our Tegra Hub, or Mobile World Congress news at the MWC 2013 Hub.