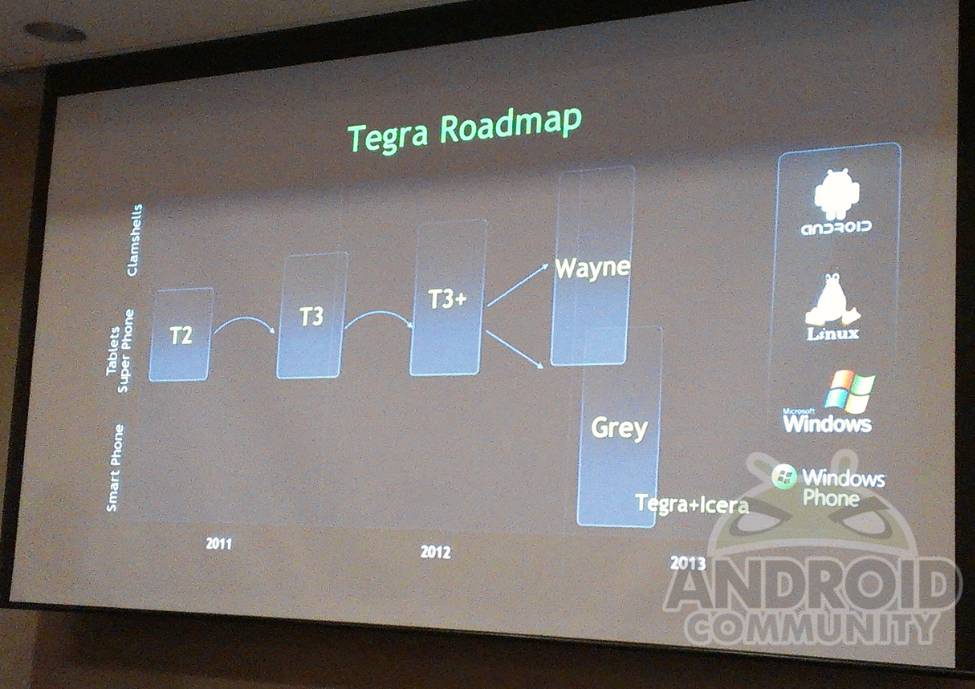 Today we've just received some more information from the folks at NVIDIA regarding their plans for now, and for the future. With the quad-core Tegra 3 processor already taking the world by storm the next step is Tegra 3 with 4G LTE integration. Currently folks like AT&T have changed to Qualcomm in order to support LTE and today's NVIDIA roadmap shows they won't have an answer to that until Q4 or later.
Now we've seen this roadmap of NVIDIA's future plans in the past (linked to below), but that was only a leak and not confirmed. Today NVIDIA themselves while speaking at a conference in Seattle shared the slide you see above, confirming when we can expect a Tegra 3 quad-core powered LTE device. If you were hoping T-Mobile or Verizon would be announcing an HTC One X with a quad-core and LTE sadly that won't be happening any time soon.
Last year NVIDIA acquired the 3G and 4G LTE modem provider Icera, and we can expect that to be integrated into their Tegra 3, and possibly other products like "wayne" as shown in the slide later this year. If the roadmap provided today is accurate we can expect Tegra 3+ powered LTE devices later this year, then hopefully Tegra 4 will be released in Q2 of 2013 like we mentioned here. It looks like we'll be waiting until Thanksgiving or Christmas for project "Grey" (aka Tegra 3+) to arrive with four cores and LTE speeds. Who will want one for Christmas?