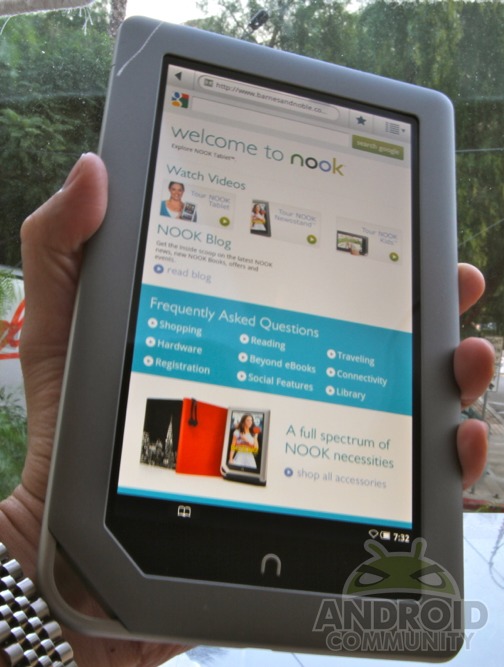 Barnes and Noble has made a few changes to their popular NOOK tablet line. This morning officially announcing they'll start selling a slightly lower model with only 8GB of internal storage to better compete with the Kindle Fire. The NOOK has a micro-SD slot for expanded storage but out of the box users only get 1GB of the 8 or 16GB included to add their own pictures, music, or video. The rest is reserved for downloads from the NOOK store. Next month that will all be changing after the countless complaints regarding the matter.
When you buy the 16GB NOOK Tablet only 1GB is available for your own music or videos and the rest is reserved only for downloads and purchases from the NOOK Store. Barnes and Noble recently updated their website stating that come March 12th users will be able to change and repartition their internal storage. Giving users access to the entire amount instead of only 1GB. Obviously rooted users can do as they please, but not everyone takes that route.
According to lilputing on or after March 12th users will be able to go in-store and get the storage configuration changed. An interesting way of doing things indeed, but the more options the better. This is a great move by B&N for the less technical crowd that wish to add more of their own content to the devices they've paid for.
Obviously you can just add a micro-SD card and have as much storage as you'd like but for those on a budget wanting to stay at that new $199 price point this is another option. Take the tablet into a store and a B&N employee will partition the storage and give you access to it all. Personally I'd just root and do as I please. Or even better — run CyanogenMod or an Ice Cream Sandwich ROM instead.
[device id=2012]