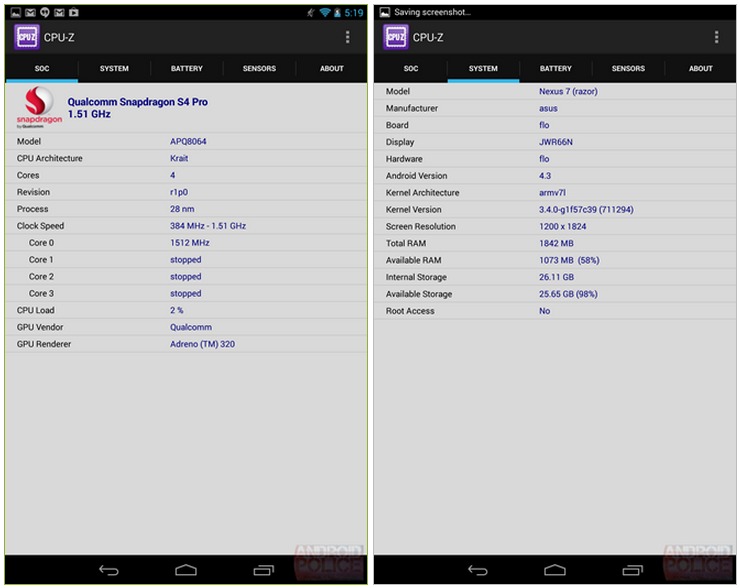 We got another look at the Nexus 7 along with its retail packaging earlier today, and have seen a smattering of specifications in a variety of leaks. This evening, however, the tablet – codenamed Razor – has had its complete specifications and benchmarks published by the folks over at Android Police, who got their hands on the device and gave it a run through a couple benchmarking tools.
As far as specifications go, they're relatively in line with what the leaks have suggested, with the 7-inch display having a 1920 x 1200 resolution that comes in at 1824 x 1200 with the on-screen navigation bar. Then there's the hardware under the hood, which includes a Qualcomm Snapdragon S4 Pro quad-core 1.5GHz processor.
Rather than the 4GB of RAM that some anticipated, the Nexus 7 will have 2GB, as well as an Adreno 320 GPU. Likewise, matching rumors is the software, which will be Android 4.3, though the screenshots didn't include anything concerning what changes that brings and what the interface in general is like. Overall, the hardware we're seeing here is akin to that of the Nexus 4.
As mentioned, the tablet was run through a couple benchmarking tools, one being Quadrant, which is similar to AnTuTu and looks at CPU, I/O, and 3D graphics. Per the tool, the Nexus 7 out paces the Nexus 4 a bit, earning a score of 5500 rather than the lower 4200 of the latter device. This places it above the HTC One X and Galaxy Tab 10.1, among others.
The new Nexus 7 was also put through the paces with 3DMark, a graphics benchmarking tool. The folks at Android Police said they ran the tablet through the "extreme" mode, which using a 1080p action sequence. Under the test, the tablet scored 7,188 and managed to hang around 30fps, with the testers saying it went above that a few times. In comparison, the Nexus 4 scored about 6,300, and the former Nexus 7 scored 1,877 under the "Ice Store Extreme Test."
VIA:
SlashGear