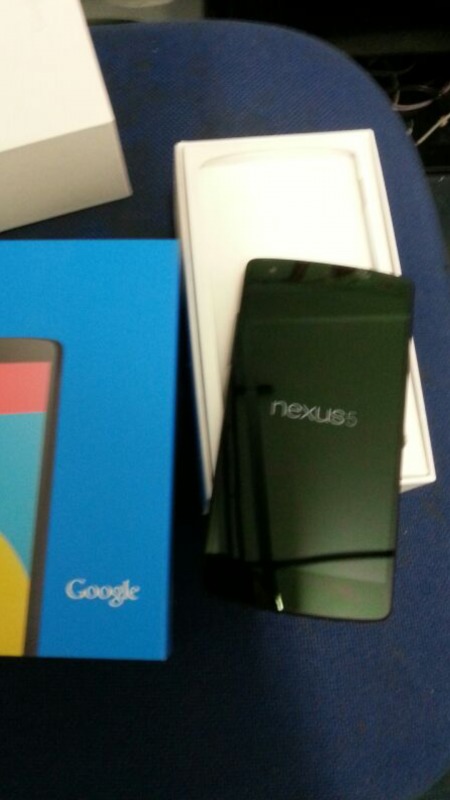 Still no official word from Google, however judging from the recent rash of retail inventory leaks, it looks like the prep work is being done for a soon to be launch. Rumor has it that Google will be announcing the Nexus 5 along with Android 4.4 Kit Kat on October 31 or November 1 and in the meantime, another handset image has surfaced. This one is slightly blurry and comes with little extra in terms of details, however it does appear to line up with earlier leaks.
We spotted the image being shared on Twitter, @N1troz posted a link to the image. And in the tweet he shared details of how this image is said to have come out of Ireland. Specifically, from someone at a Carphone Warehouse in Ireland. While we have yet to see this verified, this does fall in line with the leak we saw earlier in the week.
If you remember back, there was a retail inventory screenshot that leaked. That one, while for a different location, was from Carphone Warehouse. Regardless though, these inventory leaks do lead us to believe the Nexus 5 is going to be available right from the time it is announced. After all, why would they seem to be already arriving in retail back rooms.
Of course, that is nothing more than a bit of hopeful speculation at this point. Aside from some image leaks and rumored launch dates, the talk of specs seems to have settled down. Those are still expected to arrive as a 5-inch Full HD display and Qualcomm Snapdragon 800 processor along with 2GB of RAM, 16GB or 32GB of internal storage and an 8 megapixel rear-facing camera.