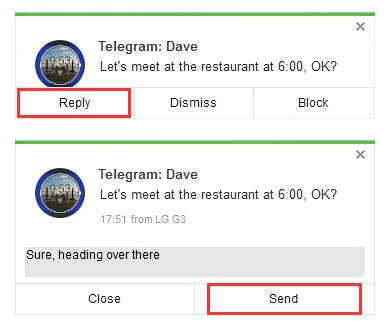 Remember the AirDroid v3.1.3 update released last week? That version has a quick follow-up, adding support to Telegram and Kik when it comes to message reply. Sand Studio, the developer behind the app, has been working on message reply support for several instant messaging apps as requested by the avid users. The developers did their best but encountered some issues while working on Hangouts, Viber, and Line.
For now, Telegram and Kik plus Facebook Messenger and WhatsApp are fully supported by AirDroid. Telegram was actually prioritized by the team. They haven't found any solution to the problem of replies going to the wrong person via Android using Hangouts, Line, or Viber but we can expect some improvements on the next update.
The AirDroid team was kind enough to give instructions on how to reply to Kik and Telegram messages. First, you need to enable Notification Mirror service found in your AirDroid Settings > Notification Mirror. While on a Kik or Telegram message pop-up, simply click Reply, type, and then choose Send.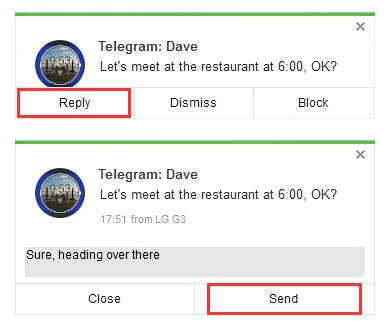 Note that this feature, replying to Kik and Telegram messages right from notifications will only work on devices running Android 5.0 Lollipop and above. Aside from the reply support, two new languages have been added: Português (Portugal) and Русский. Some changes on alert pop-ups have been made as well. When there's interruption in connection, the AirDroid will now reconnect silently when network is back. This will lessen the annoying alert pop-ups that some users complained about.
With the new AirDroid version, you can now also hide SMS content found in the notification pop-up in the Settings. And if you want no notifications when using a program on full-screen, they are now muted by default. You can still choose to receive them though if you want by making the changes in Settings.
Download AirDroid from the Google Play Store
SOURCE: AirDroid