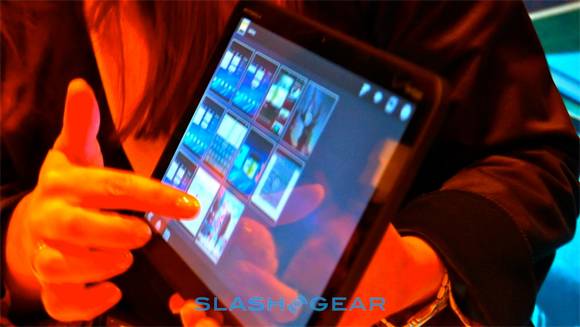 So you're the sort of person who hates it when the only way you can legally own a device is to purchase it tethered to a monthly payment plan, yes? You're also the sort of person who saw the Motorola XOOM Android 3.0 Honeycomb tablet and flipped your wig, then flipped it again when you found out it was voted best in show. You had your eyebrows lowered when you found there'd only be data-service versions of this device coming out, but don't fret! Latin America GM Maurizio Angelone has just confirmed the existence of a Wifi-only version of the tablet will be out in April of this year – before all other versions?
Today we saw the XOOM available for pre-order up on Handtec – if you take a few clicks on in, you'll notice you can purchase the device without adding a data plan. Are these pre-orders the Wifi versions of the device we're talking about here? If you also take a look back at the Motorola XOOM launching for Verizon post, you'll see that we found out that the device will be released with at least 3G capabilities in the first quarter of this year, it being then upgradable to 4G LTE somewhere inside the second quarter.
The confirmation of the Wifi-only version comes from the aforementioned Latin America Motorola exec Angelone as he speaks with a publication by the name of Infobae. The article does not specify if the date for release he speaks of (April) affects only the area in which the online publication tends to (Argentina) or if it'll be a global release. It's a bit hazy. Check the important part of the interview out here, badly translated:
This was confirmed by Maurizio Angelone, General Manager for Latin America at the brand new Motorola Mobility, one of the two companies that split Motorola this week. 

"The 3G version of the tablet Xoom is to be joined in Argentina. It will be available in the market during May. The Wi-Fi device will arrive in April, a month before, and will be assembled in Brazil," he told several region means the flamboyant executive.
April and May? That's FOREVER AWAY! Agghh!
[Via Engadget]