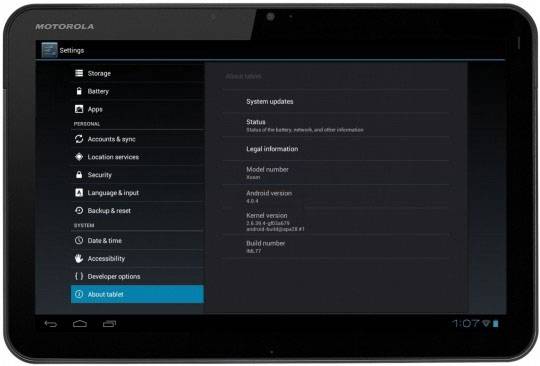 As a developer device, the Motorola XOOM has the enviable distinction of getting the latest Android updates as soon as possible. And as a WiFi-only device, those without a Verizon model get it without any carriers mucking up the update process. This being the case, the XOOM is the very first device to get an official update Android 4.0.4. Motorola let XOOM owners know via email that they should be expecting the over-the-air update later today. XOOM owners, you know the drill: head to your Setting>About Tablet menu to see if the update is available yet.
The 4.0.4 update is an incremental one for Ice cream Sandwich – there are no major new features, just a few enhancements. Faster screen rotation from landscape to portrait and vice versa, better Exchange support in the default email app, and better performance from the camera in both still shots and video can be expected. A few nondescript bugfixes should result in a little more stability. Finally, there's a new Setting option that allows you to set a delay for the lockscreen after pressing the Power button.
Owners of the Verizon XOOM, not to mention the Galaxy Nexus and both flavors of the Nexus S, have got to be wondering where their updates are. Everyone else, including modders and custom ROM developers, is probably wondering why Android 4.0.4 hasn't been added to the source code directory yet. Between a seemingly disjointed release of recent updates and the continuing absence of Ice Cream Sandwich for Nexus S owners, Google isn't winning any friends in the normally fervent open source community.
[device id=264]