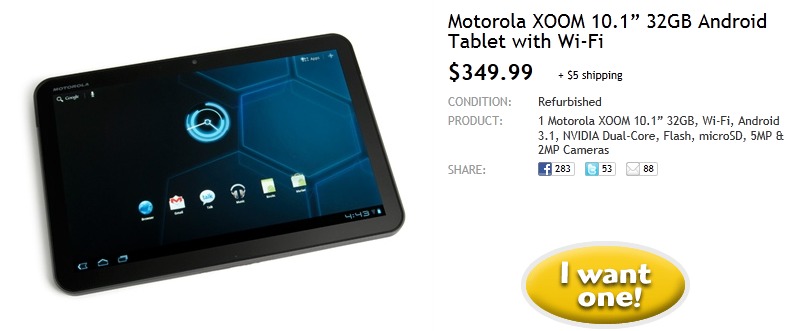 Today the Motorola Xoom can be yours for the low low price of just $350 although this is a refurbished unit and they are Wi-Fi only. This is still a pretty sweet deal on the original Honeycomb tablet that is sure to get the latest updates and Ice Cream Sandwich right out of the gate. Available today only for that price on woot.com
In case you've never used Woot before — it's one day, one deal. So this will end tonight at midnight unless they run out of stock before the time runs out. I've never had any issues with refurbished units in the past so anyone looking to snag a good deal on the Motorola Xoom now might be a good time.
According to Woot, the Xoom will come with Android 3.1 but we don't know for sure. Either way it will get the update to Android 3.2.1 as soon as you connect it to a wifi network as that rolled out earlier this month for Xoom users. If you are on the fence you can read over out big Xoom review to get a better understanding of the device, although latest updates make it even better and much more stable. Head down to Woot.com and snag one up before they sell out.
[device id=264]