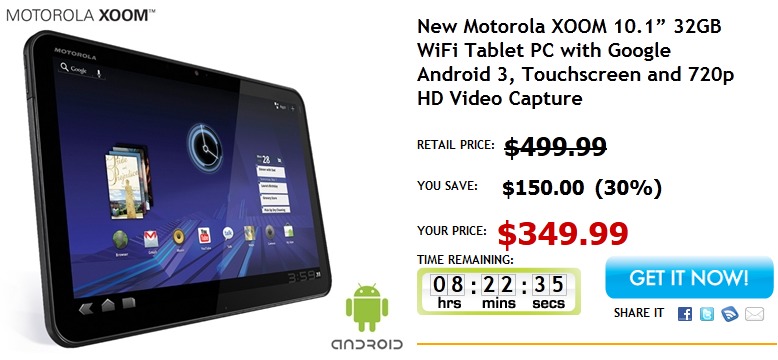 Today the Motorola Xoom is up for another round of discounts over at dailysteals.com only this time the price is for a brand new Motorola Xoom, not a refurbished unit. Recently the Motorola XOOM has been the victim of some low prices like $339 at Amazon, or $349 from Woot but those were all refurbished models making this deal today one of the best we've seen yet. It's one day only though so you might want to hurry.
For all the Xoom news you can handle feel free to look over our Motorola Xoom portal, then check out our review of the original Honeycomb tablet — the Motorola Xoom. In case for some magical reason you don't know what the Xoom is I'll share the details. We have a 10.1″ 1280 x 800 resolution tablet with a powerful 1.0 GHz dual-core NVIDIA Tegra 2 processor, 1GB of RAM, 32GB of storage, 5 megapixel camera on the rear and a front shooter for chatting. All running on the absolute latest Android 3.2.1 Honeycomb. This deal is for the Wi-Fi model, and is a pretty stellar price for an original piece of hardware.
I'll be the first to say it — the Xoom isn't extremely pretty, lightweight, or thin but it sure is a great overall tablet that has tons of developer support and will most likely be among one of the first tablets to get the upgrade to Android 4.0 Ice Cream Sandwich. If you've been waiting on a deal for this bad boy and didn't want to settle for a refurbished unit, this is your moment.
Again, it is $150 off and can be yours today for just $349 over at DailySteals.com. You have around 7 or so hours to hurry and decide, then click that huge "Get it Now" button. Enjoy!
[device id=264]