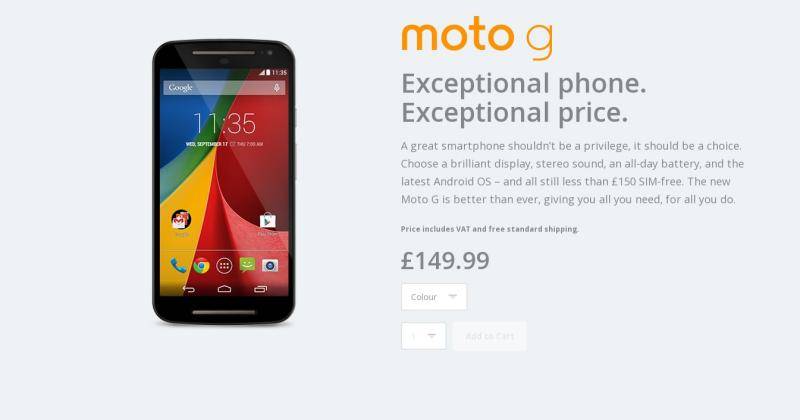 It may not be the desirable Moto Maker, at least not yet, but this is still good news for Android and Motorola lovers across the pond. Motorola's UK branch has just opened up its website for direct purchase of devices, with the new Moto G being the first, and so far only, product to be acquired.
Unlocked models of the Moto G have always been available to UK residents, but not directly from Motorola itself, unlike their US counterparts. Such devices were available from retailers like Amazon, which some prospective buyers might not find convenient or worry-free. Now they have nothing to fear as Motorola UK has opened its doors for those who want to get a Moto G straight from the horse's mouth, so to speak. It does, come with a price, however, as the this Motorola-direct model costs ₤149.99, around ₤5 more than the Amazon price tag, though it will also arrive sooner than the retailer's.
To be clear, because the naming convention is a bit confusing, what is being offered here is the new, in other words the second generation, Moto G. This means a 5-inch increase in size for the same 720p resolution. It does also mean a faster 1.2 Ghz quad-core Snapdragon 400, 1 GB of RAM and 8 GB of storage. But most importantly, it also means dual front facing speakers and, finally, a microSD card slot.
The good news is that the Moto G is just the opening act. The UK website also has placeholders for the Moto 360 and the Moto X. The latter is expected to arrive with the Moto Maker customization service, making the UK the second country outside the US to get Moto Maker. Moto Maker opened shop in Germany last July, marking the start of its possible expansion to even more markets in the near future.
SOURCE: Motorola
VIA: Engadget