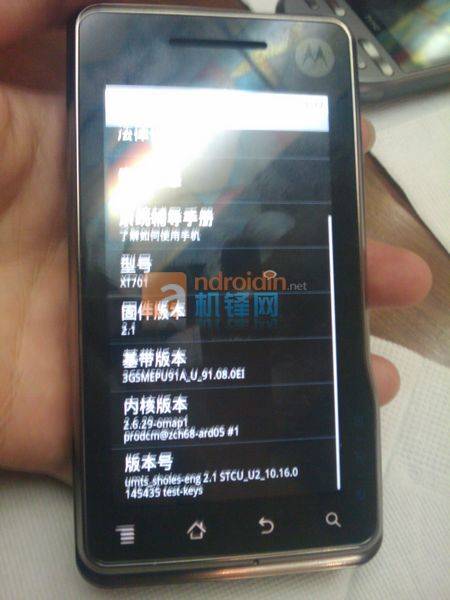 It would appear that Motorola is on a roll lately, we just had some leaked images of a Motorola Sholes caught in the wild. Then a DROID look alike, that might end up been a fake, which many believe that is probably a Samsung Omnia 2. And now China Unicom adds a Motorola Sholes XT701 into the mix to make things more exciting.
So, according to Androidin, this is the Motorola Sholes XT701, which will be sold by China Unicom in that country. And apparently, will have a 5-megapixel camera instead of the 8-megapixel reported on the leaked pictures. The XT701 is also said to have a 3.7-inch touchscreen and no hardware keyboard.
Supposedly, the Motorola XT701 has an FM radio and will run Android 2.1 (check image above), it'll have a 3.5 mm headphone jack and flash. It is also said that the handset will be capable of recording in high-definition, but that's something nobody is sure at the moment. The truth is that with the number of knock-off devices circulating in China we have to be a little suspicious about rumors and leaks like this.
There are two more shots below so you can check this phone a little better. And don't forget to let us know what do you think.