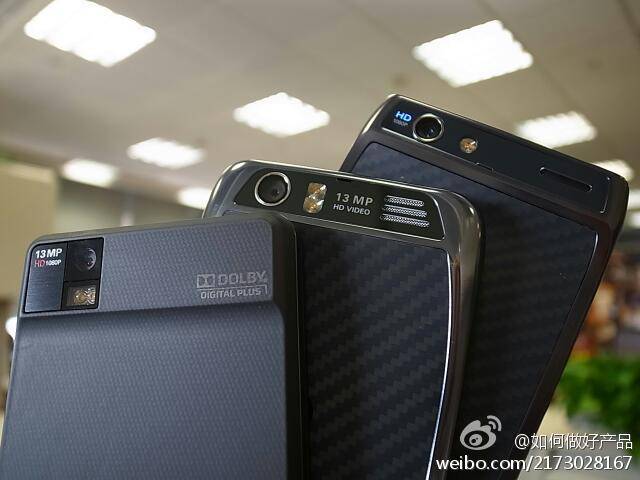 When the DROID RAZR was revealed I was feeling bad for all those Bionic buyers, but now I feel the same way about RAZR owners because we are now seeing what appears to either be a new model, or just China's version packing a 720p HD display and a huge 13 megapixel camera and more. You never know, maybe its actually the DROID X3.
The photo above should give you a few ideas as to what we're talking about here. The last device is the DROID RAZR we know and love that was just released, and reviewed here. Then the middle device was revealed last week as the Motorola RAZR for Chinese markets known as the Motorola MT917. These new photos clearly see the slight change to the design, the 13 megapixel camera, and the additional second LED flash.
Then we have that first phone of the three, looking slightly different from the rest and quite possibly a different phone altogether. It doesn't have the same Kevlar coating on the back and appears to be decently larger. Its specs are being kept under a tight grip so we don't know anything regarding it. If its anything like the China RAZR it will have a 4.5″ HD AMOLED display rocking a 1280 x 720p resolution. Pair that with the 13 megapixel camera on the rear and possibly Ice Cream Sandwich that would be one awesome smartphone.
Take note that the first phone (or far left) looks considerably different. The camera is more in line with the DROID X and X2 line especially how it looks and doesn't have the aluminum ring, the rear has the same soft coat matte back instead of Kevlar. Then in the second picture you can clearly see the back slides down (just under his thumb) and appears to slide and be removable — just like the Droid X and X2 (picture in gallery).
If you ask me I think we've just seen our first picture of the upcoming Motorola DROID X3, but we don't know for sure. Either way the Motorola RAZR will hit other regions soon, like China seen here, and we can expect to see others receive the same treatment. Hopefully we learn more soon regarding the other device shown in these pictures.
[via Engadget]