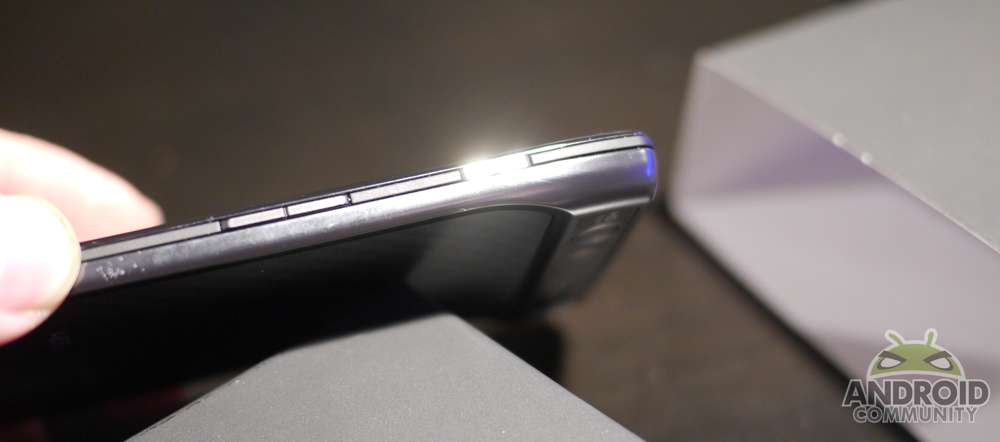 This month will mark the release of both Motorola and Verizon's new flagship device, the DROID RAZR, and what we've got here is a full review of this device, complete with the whole explosive handful of features and accessories. What we're dealing with here is a 1.2GHz OMAP4 Texas Instruments dual-core processor wielding 4G LTE monster that not only employs the thinnest chassis on a 4G device today, but also reinforces itself with near-unbreakable hardware like a Kevlar back, metal construction on the insides, and a Gorilla Glass panel on the front! Will the 4.3-inch qHD 540 x 960 Super AMOLED Advanced display be the final KO in what at first glance appears to be a true knockout device? Let's have a look!
Hardware
When Motorola started introducing this wave of devices with the bent-in corners, I was hesitant to say that I liked them at all – but here with this device in particular, it all comes together rather well. The front end of the device is uniquely shaped without being overbearing while the back of the device is a totally classic design. The swoop up to the camera/speaker/port area of the device makes for a great place to hang the phone from your finger while the Kevlar pattern makes for a totally high-class feel for your palm.
While the outer rim of the device is a hard shiny plastic, it's not low-grade, and even though there's a full metal construction on the inside and the front panel is glass, the whole device is ultra light at 127g. This is a great weight at which the device feels both light enough to impress but heavy enough to remain substantial. Then like all devices with curved-edged Gorilla Glass on the front, like the G2x for example, your thumbs will be in gaga-land with love for the smooth ride they'll be on for the next 2 years of your life.
The back panel of the device is not meant to come off and the battery inside isn't the removable kind, but at 1780 mAh you shouldn't need to. Have a look lower in this review for more info on the battery – then know that there's really nothing you need to mess with on this device other than your day to day work and play. There's a panel on the side where you can switch out your LTE microSIM if need be, the same with the microSD card.
Software
While Motorola at the start of 2011 was not impressing many people at all with what they called "Motoblur" at the time, this a user interface sitting on top of Android, they've hit a stride with their most recent iteration. Here the UI slides around rather nicely and most things seem to fit in what's otherwise a rather nice look at Android. There are some bits that drive me nuts, the gallery app for one, but features such as Smart Actions make this device uniquely appealing.
In what I'm sure Motorola will continue to work with in the future for device automation, here comes Smart Actions – an app with triggers and actions. Add a trigger like 9PM arriving and add actions like switch to Wi-fi and turn off cellular data. Another example is switching your wallpaper when you reach a certain GPS location, or sending the device into a deep sleep mode for battery conservation when 1AM rolls around (because you probably wont need to be making anything happen with the phone after that.)
DROID RAZR hands-on complete with Smart Actions
The device also has Webtop as was demonstrated in your humble narrator's
full review of the Photon 4G
and is demonstrated in the DROID RAZR Accessories review that you'll find linked below. Webtop is a developing environment made by Motorola to provide a unique value proposition to you the user in that you can potentially use your smartphone as a media center or a near fully-functional laptop interface. Check out the
Lapdock 100
review I did over on SlashGear and note that although the RAZR is too thin to fit in the rubber pocket in the back, it still certainly connects like the ATRIX 2 does, just fine and dandy.
DROID RAZR accessories hands-on complete with webtop demo
Where I appreciated the new look for this new-wave interface for Motorola back on the DROID 3, here I must say that it's finally matured to a place where it runs as smoothly as it should, and the full interface doesn't feel like a second runner to stock Android anymore. Run it and enjoy finding all of the fun easter-eggs of functionality featured throughout the device – there are lots!
Also check out a few benchmarks here for power and speed:
Accessories
While you certainly could trick this device out with a boatload of accessories, most of them custom made and branded with the DROID RAZR name, the device is also fine on its own. The only accessory I think you'll definitely want to get is a microHDMI cord if you don't already have one – or just get an HD dock and one will be in the box. Check out the separate [DROID RAZR accessories review] for the full look.
Camera
With 1.3 megapixel camera on the front and an 8 megapixel camera on the back also capable of 1080p video, how can you go wrong? If you've got bad software backing it up, you can go wrong, but Motorola here has gone very, very right in this case, bringing a shooter that can quick-launch from the device's lockscreen and can snap photos one after another after another at high speed. This is easily the best camera on a Motorola smartphone thus far and leaves MOST of the other smartphone cameras on the market today in the dust. Have a peek at the results here and in the gallery below.
Battery
The battery on this device is OK, and the device is certainly not the power hog that several other LTE devices have been thus far, but there are a few things that'll have it knocked out cold in just a few short hours. Some of our tests thus far resulted in the following: LTE hotspot for a laptop: 5 hours. Video with data turned off: 8 hours. Netflix video: 6 hours. Normal daily usage (turning the device on to check emails every half hour or so, using the device for Spotify in the car, watching a YouTube here and there, playing some games once or twice,) 11 hours. Have a peek at one example of a medium-use day here:
Wrap-up
This device is the clear new top choice for LTE devices on Verizon's network. Where before this new wave of Motorola devices came out with the interface formerly known as Blur, now Motorola has hit a new stride and the whole device flies quite nicely. I've still got a bone to pick with the built-in gallery app, but that's an argument for another day. Right now it's all aces.
The DROID RAZR is perhaps a bit wide for my palm, but otherwise feels splendid to hold and to use. The Kevlar weave pattern on the back feels lovely, the curved-edge Gorilla Glass on the front feels rather nice, and the location of the HDMI and microUSB ports really feels like a good choice. Now the question must be: is this device any competition for the Galaxy Nexus and the Galaxy S II? The latter, yes certainly because of the LTE and the physical features on the phone, the former, I can't be so sure – we'll see!
[device id=1739]