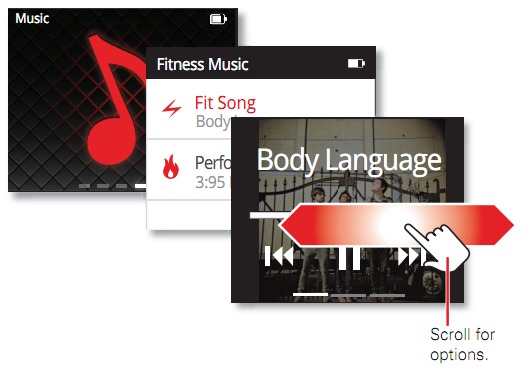 So you've got this webpage over at Motorola that's telling you all about the new Dick Tracy watch, aka the MOTOACTV, a sports-centric Android device made to wear on a strap around your arm or wrist. It looks fantastic, but you want a guide from an Android perspective, one that'll let you know exactly what this device is and how simple (or incredibly difficult) it'll be to use. We just happen to have a guide like that here! And after the guide we'll have a full review of the device as well!
Full disclosure, the following guide is essentially re-written from a reviewer's guide made for those taking a look at the MOTOACTV before consumers get their hands on it. What I'm aiming to do here is to write it in a style that'll make it both simple to understand and readable in a shorthand format so that you can get the idea of what's going on without committing to reading the bible of MOTOACTV, if you know what I mean.
Preparation of the device
This isn't the kind of device you can just pop out of the box and start running with, but it's close, and with only a few screens grabbing your weight, age, gender, and time zone. After entering these values, you could potentially jet out the door BUT you should of course do a few things like making sure its fully charged and that you've got it correctly attached to the accessory of your choice.
With the basic package you'll get the MOTOACTV itself in either an 8 or 16GB version, this telling you how much space you've got inside for things like MP3 music tracks, as well as a charger (with 2 USB out ports, neat!), USB cord, a clothing/belt clip, Motorola SF200 stereo headphones with built-in mic, and a guide book. After that you're able to purchase the following:
Clip (included but available for purchase if you lose yours)
SF200 headphones (ditto)
Sports Wrist Strap
Sports ArmBand
Bike Mount
Lucky for you, our review will contain all of these items because we've got the super deluxe awesome reviewers package, complete with biker dude/Gene Simmons box!
Interface
Once your device has been set up, you'll notice five home screens, the main and center screen being the Timepiece Screen, this you'll recognize by the giant digital time display as opposed to a big red icon in each of the other screens. The five screens are as follows, from left to right:
Settings – This area allow you to re-address anything you want to change that you set in the original setup as well as items like metrics, Audio Coach if you want to be spoken to during your run on how well you're doing with pace, split time options, workout customization, and you can even turn the Timepiece into a scary looking hardcore skull. I expect that further customizations of interface will be introduced over time as well – you also have the ability to change your theme from Fire to Blue Sky or Steel *unfortunately "Blue Steel" is not yet an option – soon!
Workout – Here is where you start your activity. From here you can select items like Running, Cycling, Elliptical, and more. See additional information on this screen in the Working Out section below.
Timepiece – The center screen displays the current time as well two items that start calculating each midnight and reset each midnight: steps and calories burned. The device uses a couple of built-in items: GPS and an accelerometer, to track how many steps you've gone in a day. MOTOACTV also has Bluetooth certified with *ANT+ which, as Motorola states, "enables compatible fitness equipment, like heart rate monitors, bike speed/cadence/power sensors, and foot pods, to communicate directly with your MOTOACTV using a low-power wireless protocol." Back in settings is where you'll be hooking your MOTOACTV up with anything from foot pods to power sensors to heart rate monitors, collecting data from these devices then via Bluetooth.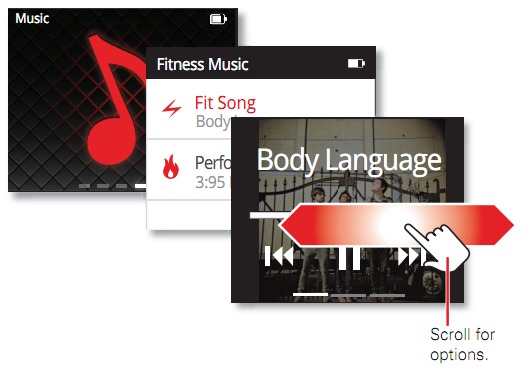 Music – This is where you'll control your music, of course, this separate from your workout so that you can manage the two independent from one another. You'll be adding music to your device via an application that you'll find available to add to your computer (your home computer, Windows or Mac,) which will work to load music as well as unload data if you wish to avoid MOTOACTV.com – more on that later. You can also get FM radio right from the device itself using your headphone plug as an antenna. The most awesome part about music is that MOTOACTV compiles data and attaches it to your music, this data then harvested to create one "high-performance playlist" of songs that've statistically made you move faster, and with more stamina than the others in the past.
Notifications – On the right is the last screen, this one working with your smartphone. If you do not want to use a smartphone in tangent with your MOTOACTV, you don't have to – isn't that neat? The device will of course be promoted as one that works to bring your smartphone to a whole new level, of course, here connecting not only to show you any notifications you have on that device, but letting you access calls, text messages, and calendar reminders as well.
[vms 4f65b9398f76d8be4c61]
Smartphone integration with MOTOACTV by Sanjay Jha
MotoCast USB
To help you load your favorite music to your device, Motorola has included an application by the name of MotoCast USB. You can access this application by plugging your MOTOACTV into your computer with its USB cord. You'll either be prompted to install immediately, or you'll have to search for it – Mac users it'll be on your desktop or amongst your plugged-in media, Windows users you'll have to go to My Computer, MotoCast Drive, and MotoCastSetup.exe. Make it happen from there and poof! The application appears. You'll need to either create a MotoCast ID if you don't already have one or just log in from here, at which point you'll be ready to go for loading music and all kinds of other fun stuff from MOTOACTV.com to your device.
From this point you can either continue to plug your MOTOACTV in to your computer to connect to MotoCast USB or you can set your MOTOACTV up to connect with your computer via Wi-fi – should both your MOTOACTV and your computer be connected to the same Wi-fi network, you'll be in business for completely wireless syncing of media and data.
MOTOACTV.com
At the website MOTOACTV.com, you'll be able to access your MOTOACTV device-generated statistics with your MotoCast ID. Your statistics only upload to Motorola's servers if you connect your MOTOACTV to a Wi-fi network and you've signed in with your MotoCast ID on the device as well. This site is one of the big selling points of the device, but again, just like the smartphone bit, you don't need to connect to use the device on its own. With the site you'll be able to access the following:
Workouts – Each time you start and end an activity, it will be registered in your Workouts, complete with pace, distance, calories burned, and if your workout was outdoors, a map of your workout route. There's also a place to add journal notes to your workouts – for when you need to know that this was the day that you ate the cheeseburger before going on that hike that ended badly.
Planning – Here you'll be able to set up a workout plan on a big calendar, each workout date then given to you as a reminder on your device should you later load the information in to the hardware. There's also maps of the USA, Canada, Mexico, Brazil, and Argentina connected to training plans and tips from fitness experts like Chris Carmichael that you can use if you've got no idea where to start.
Goals – Just as the title implies, this is the place where you can set goals for your fitness, these goals then tracked via your workout routine loaded into the site with your device. Goals include weight loss, workout frequency, and stamina.
Competition – As users from across the country join the fun here with MOTOACTV.com, you'll be able to compete against one another in competition. You can also connect with your friends and family through their accounts and have one big MOTOACTV social running network! This is clearly the goal, anyway.
Settings – Here's where you can create a profile including photo and personal stats, adjust your privacy settings. You can also manage your MOTOACTV device from this area of the website and explore your Fitness Zones and maps (which you can customize yourself.)
Working out
From your Workout screen you'll be able to select from any of the following: Running, Cycling, Walking, Elliptical, and Step Machine. You can also select "recent" which shows what you've done recently as far as workouts and can select "race myself" if you'd like to improve. Before you start anything though, once you've selected what you want to do, you'll want to calibrate your device – this option will come up as you start your activity and will take you about 2 minutes. You'll want to make sure your GPS is locked, this taking just a few seconds depending on where you are in the world, or that your accelerometer is working well (this mostly for when you're indoors.)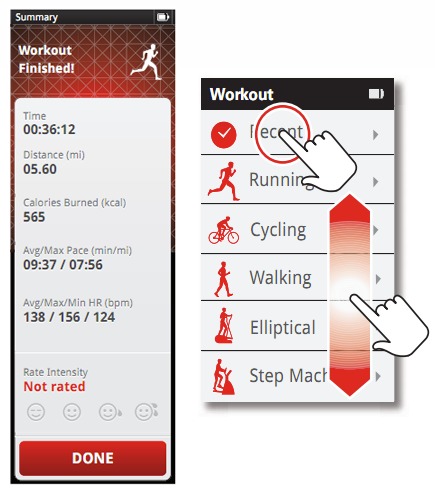 Inside a workout you're able to see your live data screen which can show things like pace, hour, elevation, and calories. You can adjust what you see here in your settings on the device by heading to Settings, Workout, Customize Views. You have the option of adding an Audio Coach which will speak to you on your important stats like time, calories burned, and heart rate, each of these only when you tap your MOTOACTV display for an update. No worries about nagging!
Hardware Features
A few other items exist for the MOTOACTV which aren't really categorizable under the software end of the device and that we'll be reviewing in kind here on the site. They are, in no particular order:
Display – what you've got here is an a 1.6-inch LCD capacitive display on a device that is 1.81 x 1.81 x 0.38 inches large, and the screen is no ordinary bit of tech – instead what you've got here is a transflective display which, as Motorola says, "turns black and white in direct sunlight." We'll be checking that out for sure!
Toughness – Motorola notes that the entire MOTOACTV is both scratch resistant (and it certainly is as it's got Gorilla Glass across the front) and water resistant. They literally suggest that we "Take it for a test drive during a rain storm" and "Take it to your gym for an all-out sweat fest on the treadmill." We'll do a bit of that testing as well, though I can't promise an all-out sweat fest, as it were.
Seeya here soon for the full review of the device!
[vms b4f75bfd8da0b393af85]
Motorola MOTOACTV Hands-on by Dean Karnazes