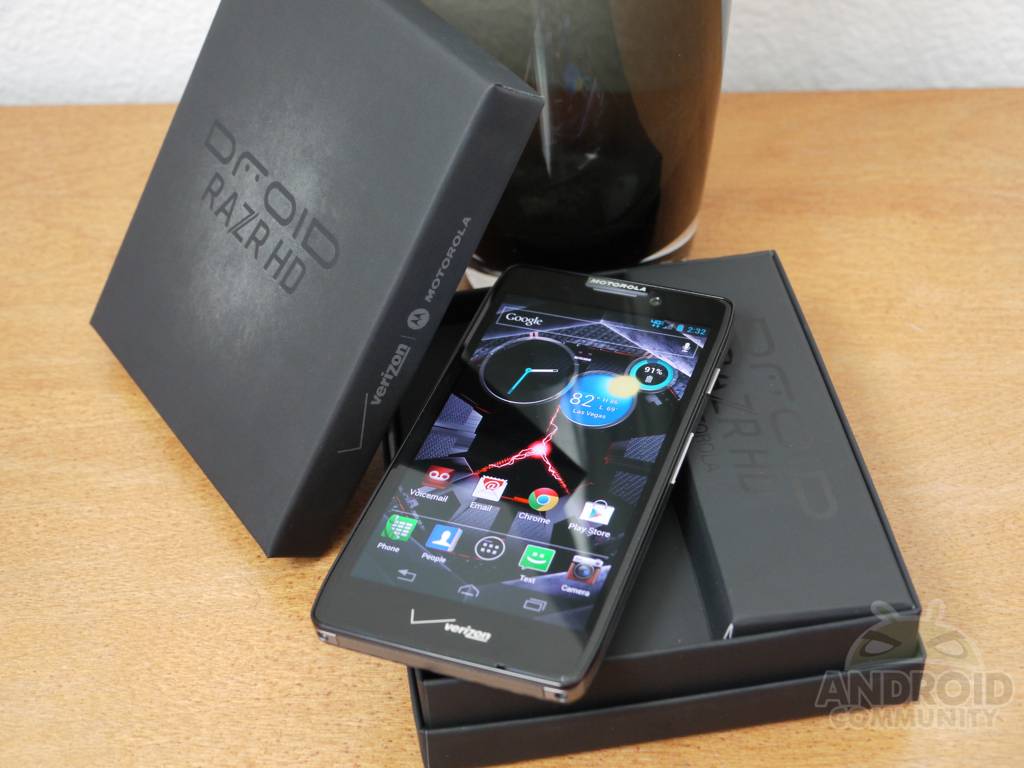 The official launch date for Motorola DROID fans to get their hands on the new RAZR HD is getting close. With Verizon and Motorola announcing the new RAZR-thin smartphone will be available in-stores and online starting October 18th. The wait is almost over with the phone being available later this week, but we'll give you a peek a bit early. Enjoy our hands-on and unboxing below.
Yup, we've already got our hands all over the brand new Motorola DROID RAZR HD smartphone. Complete with that RAZR-thin design we all love, Verizon 4G LTE, and of course that new "HD" screen. This is certainly the best RAZR yet — but it remains to be seen if this can compete with the Galaxy S III and other similarly spec'd devices that are already widely available.
So today, we'll give you a quick look at our hands-on and uboxing video while we explain the specs of this new device, and share a few pictures of the beautiful 4.7-inch 1280 x 720p resolution AMOLED HD display. Before we move on you should probably take a peek at our DROID RAZR M Review since they are basically running very similar hardware and software specs. Now enjoy a few minutes with the RAZR HD.
As you already know, the RAZR HD comes complete with a 4.7-inch Super AMOLED HD display running a 1280 x 720p HD resolution. You'll get an 8 megapixel rear camera with LED flash, 1.3 front for self portraits, micro-USB and micro-HDMI for options, as well as a micro-SD slot for expanded storage. Under the hood is where this thing shines though. We have Qualcomm's Snapdragon S4 dual-core processor running at 1.5 GHz, 1GB of RAM (sadly not 2GB like the GSIII) 16GB of internal storage, and a massive 2,530 mAh battery.
So far our initial impressions are rather favorable. Motorola has always had awesome hardware, and this is no different. It's the software and locked bootloaders that we aren't fans of — but Motorola's slowly but surely coming around on both fronts there. The Kevlar coated rear is an awesome change and feels extremely durable, yet comfortable at the same time. It's soft to the touch yet can handle all types of rough surfaces. The only thing we're still not too sure about is the metal band wrapping the device. While it looks great the edges could potentially be a bit rough and sharp. The corners differ throughout the different buttons and the coloring isn't uniform — so that's a bummer.
One thing I'm happy to see here is a notification light. We wish more device had them too. The RAZR HD's Motorola logo up top has a huge multicolor notification light (see picture below) that will notify users. Good Job Motorola! Overall, so far we like what we see. Here at Android Community we'll be sure to run loads and loads of benchmarks, 4G LTE speedtests (more at least), play some games and the usual goodness for a full review coming soon. Drop us a comment if you have any question about the new RAZR HD from Googlerola and Verizon. This device will be available to all in just two short days!
[device id=3497]