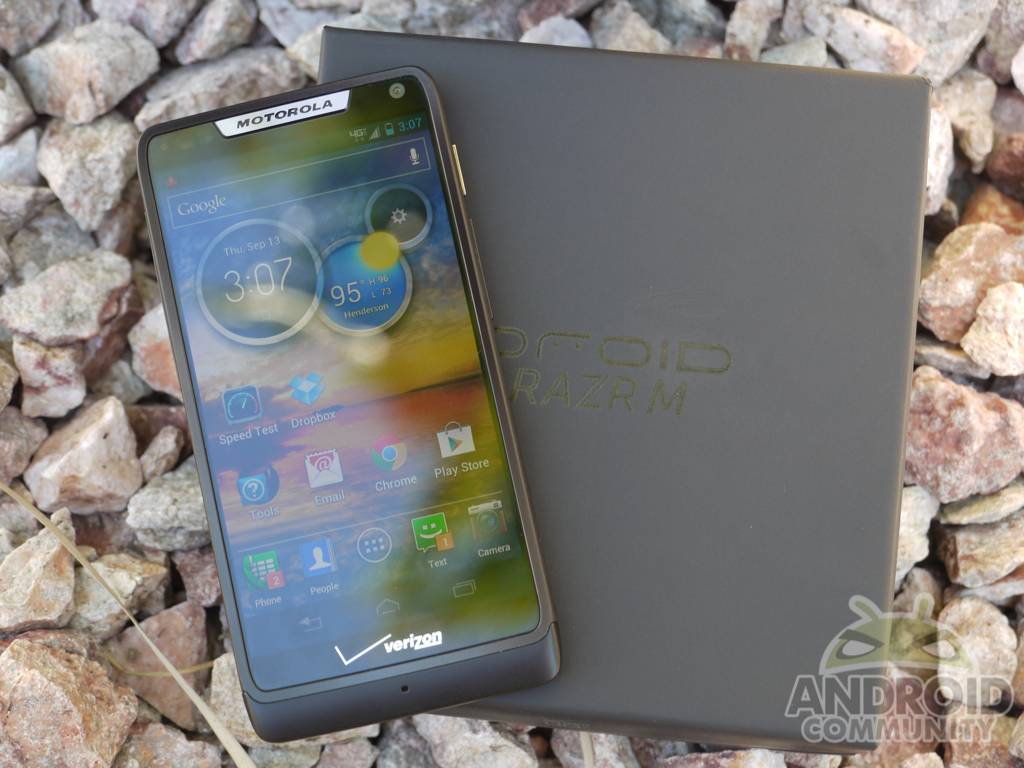 The DROID RAZR M was recently unveiled at a Motorola event by the once Googler turned Motorola CEO Dennis Woodside. With Motorola's new plan to release nicer phones with a better experience can the RAZR M deliver? This smartphone packs a powerful dual-core processor, Verizon's LTE speeds, and Motorola's new edge-to-edge display technology all in a small and affordable package. Lets take a look below.
This smartphone is not quite top of the line but a perfect smartphone in terms of today's sense for the mass market. Motorola's packaged a very well designed lightweight yet powerful phone and made it extremely affordable starting at only $99. To start you'll want to check out our in depth hands-on unboxing and video review, then check out all our photos and details below.
Hardware
While Motorola has been making positive strides in their software and update schedule, the star of the show here truly is the hardware. We have a tried and true Qualcomm Snapdragon S4 dual-core 1.5 GHz processor chugging along with ease, 1GB of RAM, 8GB of internal storage, micro-SD support and the usual top tier specs all in a super sleek phone. Motorola's brand new edge-to-edge display technology is the second neat thing about this phone. It's smaller than any other 4.3-inch display touting smartphone, all thanks to the sleek bezel and Kevlar design to keep things small and sleek, yet durable.
Other specs include a decent (with enough light) 8 megapixel camera with flash, a 1.3 front shooter for self portraits, Android 4.0 Ice Cream Sandwich, and a very industrial design. That industrial hardware is made up of lightweight plastic, brushed aluminum on the front to protect the display (and keep bezels small) and the Kevlar coating on the back. The screws on the sides keep the aluminum that protects that beautiful screen thin and helps make the device so small. Here's a few looks of the hardware.
The left side houses three screws and a little door to access the micro-SD for expanded storage and Verizon's 4G LTE sim card, then you also have the micro-USB port for charging. The bottom comes to a point and you're greeted with nothing but a microphone, then around to the right is the rest of the goods. The left side you have the same 3 screws, the power button, as well as the volume up/down rocker. Then the lone port up top is the 3.5 mm headphone jack. This is the first RAZR without a micro-HDMI output so it's safe to assume you won't be using any Moto lapdocks with this.
Then the last bit of details on the hardware include the massive 2,000 mAh battery under the hood. Having a device this thin and this small with only a 4.3-inch screen yet still a large battery is quite a feat. This should offer exceptional battery life and so far we've been pleased but will talk more on that below. When HTC's One X and its large 4.7-inch body can't hold a battery this big, you see why we like Motorola's choice here.
At first I didn't think I'd like the smaller design or actually having no bezel to rest my hands or idle fingers, but after a week of use I can say I absolutely have enjoyed the hardware here. Motorola has a real winner with the DROID RAZR M, especially for only $99. The hardware is top-notch and you'll surely be pleased.
Software
Software is a hit or miss for many, and with Motorola I'm at a middle road. While they've obviously skinned and tweaked Android 4.0 Ice Cream Sandwich with their "blur-ish" user interface it is no where near as different as Sense UI or Samsung's Touch Wiz. Add in the fact we have on-screen nav buttons as Google intended and I'm slowly becoming a fan of Moto's software. Running on Android 4.0.4 Ice Cream Sandwich everything is great here. Motorola announced the phone with Jelly Bean models on stage so it's safe to say that update should be here soon — as long as Verizon doesn't interrupt.
As you see above this is clearly Android 4.0 Ice Cream Sandwich. The usual Verizon bloatware was included but for the most part there wasn't anything too extreme. Verizon phones are now coming pre-loaded with a bunch of Amazon apps so we can call that bloatware now. One nice thing is Google Chrome browser comes pre-installed, but they've also replaced the original Android browser that was capable of Adobe Flash. For that you'll need a third party browser now, but I'm not complaining.
One thing worth noting, which I also showed in my in-depth video above, is the swipe to left feature for quick settings. I love that Motorola has added this although many have opted to use the notification pulldown bar for these features. It's a different approach and I'm enjoying it thus far. Then the Circle Widget is simply awesome. I want it on all devices and again I show that off with detail in my video above.
Performance and Benchmarks
Performance thanks to Android 4.0 Ice Cream Sandwich and the Qualcomm dual-core processor was extremely fluid. Android has continued to evolve into a finely tuned machine and this is a prime example. You don't need absolute top of the chart specs to have an awesome and well performing phone. We aren't saying the CPU isn't top of the chart — because it is — but a qHD res, smaller display, and petite package doesn't mean the phone won't perform. This device rocked with benchmarks and like most S4 devices we got nearly 5000 in Quadrant.
Daily usage was a breeze. I rarely had any moments of lag or stutter to even mention either. While Motorola's UI changes aren't my favorite, they certainly aren't slowing down the phone and causing issues so we have no complaints here. Next up lets talk about speeeed. Verizon 4G LTE has continued to improve and Motorola devices always seem to fair the best with it too. The RAZR M was able to achieve blistering fast speedtest results on 4G LTE in San Fransisco, Las Vegas, as well as Utah. And yes I've been to all three in the past 6 days. Here's our results — I'll let them do the talking.
Camera
Motorola's cameras haven't quite been as good as Samsung or recently HTC's but the past few devices they've surely improved it. We get a quality 8 megapixel camera with the DROID RAZR M but it still lacks in those low light situations where others have managed to improve. A few pictures inside while still full on detail just didn't have enough lighting for a quality photo. Overall however the images outside were decent. The shutter speed has been seriously improved and is extremely fast so you won't be missing that important shot. The front camera as usual is 1.3 MP and isn't anything too special, but works for saying hello on video for a moment. Here's a few camera samples:
The little man sleeping is Finley (out Golden Doodle) but the shutter sound woke him from his sleep — poor guy!
Battery Life
Motorola has been aiming for battery life with their last two generations of smartphones, and it's a choice I think was a great move. HTC's One X has a massive 4.7-inch screen and a quad-core processor but only has a 1,800 mAh battery and has many users complaining for something better. Say hello to Motorola. Their RAZR MAXX packed a 3,300 mAh battery and lasted nearly 3 days in our tests. With the all new DROID RAZR M they've found a perfect happy-medium with a great sized smartphone and a decent battery too. This device has a 2,000 mAh battery yet remains just 8.1mm thick at the fattest point.
Motorola didn't want to compromise on battery life yet still have a thin "RAZR" quality smartphone, and with the M they delivered. As you can see below on 4G LTE battery life was exceptional and some of the best we've tested lately. I used the phone for a full 8 hour day which included almost 1 hour of viewing NFL Mobile live video playback, multiple different browser sessions, a few phone calls, and then some speedtest runs and I still have 50% battery life. That means you can basically toss this phone through the ringer and use it heavily all day long and still have some left to spare. I love it!
Wrap-Up
When Motorola first announced the new RAZR series and the RAZR M I wasn't too sure I'd be pleased. After spending more than a few days with the all new RAZR M we can indeed confirm they've stepped it up a bit in all areas. The hardware is great, the software is fast, the screen is awesome and the phone has great battery life. This phone really is an exceptional price/performance device and you can't go wrong with it.
This is a fun addition to the RAZR family and certainly can hold its own against the others. It might not have an HD screen but that edge-to-edge display is vivid and looks great. The only downsides to this phone are the the display not being quite as nice as others, and the industrial design. If you can get over the slightly unique design elements or don't have $200 to spend on a new smartphone the RAZR M is perfect.
The Motorola DROID RAZR M is available starting today for just $99 with a new 2-year contract from Verizon Wireless. Go check it out!
[device id=3500]