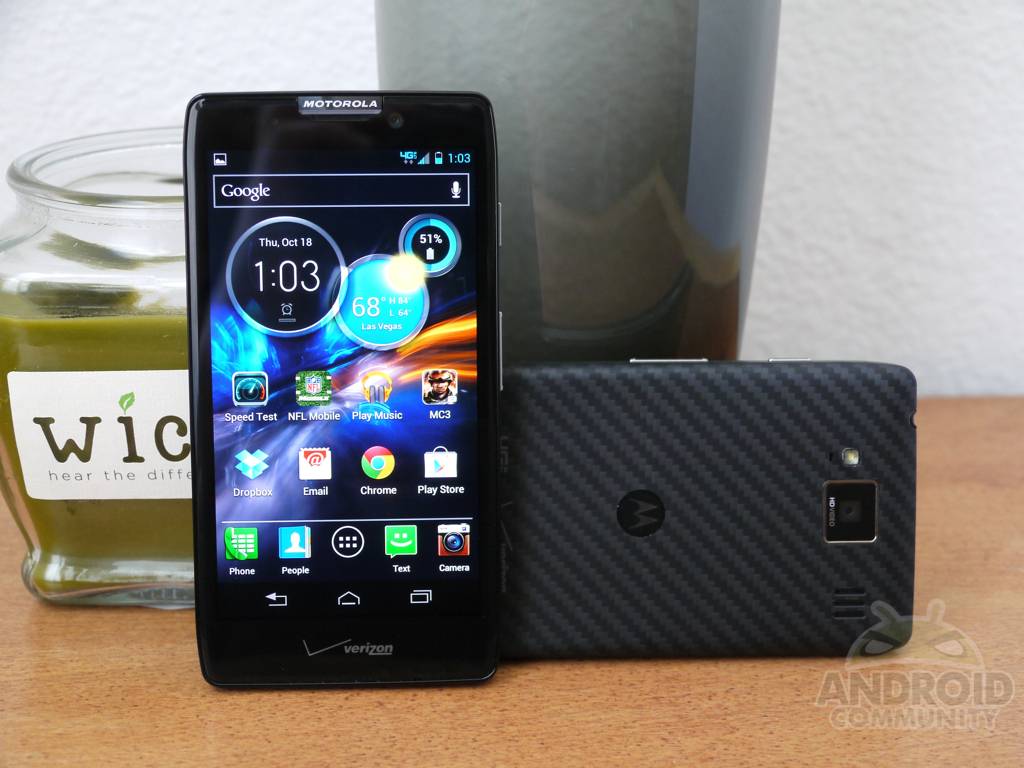 Motorola and Verizon's DROID RAZR was a pretty big hit last year, and today they are back with the evolution of their flagship device with the DROID RAZR HD. Today the 4.7-inch touting DROID RAZR HD and RAZR MAXX HD are both available in stores as we speak. To help you make up your mind on if this is the right phone for you read on for our full review.
With the natural evolution of smartphones Motorola has pulled out all the stops with this new device. The RAZR HD has been improved in all areas over its predecessor. We now have a bigger HD display, faster processor, a newer improved user interface, experience and more. Below will give you the full rundown on the Motorola DROID RAZR HD.
Hardware
As far as the hardware is concerned we have everything you loved about the original RAZR, combined with the recently released DROID RAZR M for an overall excellent experience. Everything has been improved this time around. Sadly the device is just available starting today, while similarly spec'd devices have been out for months and quad-core devices already hitting the street.
The RAZR HD employs a 4.7-inch AMOLED HD display with a 1280x720p HD resolution. Bigger than last years, HD, and has a pixel density of 312PPI. While the new HD display looks great sadly they've still used PenTile technology and you can clearly tell when looking at greens, blues, and the battery meter up top. As far a the rest of the device goes, everything is stellar.
We have Qualcomm's 1.5 GHz dual-core Snapdragon S4 processor like the RAZR M, Galaxy S III and others powering the device. You'll enjoy 1GB of RAM, 16GB of internal storage, and a micro-SD slot to expand storage options as well. Just like last years phone Motorola's tossed in an 8 megapixel rear camera with LED flash — only the camera has seriously improved but more on that below. As usual with Motorola we have micro-USB and micro-HDMI on the side, and a 1.3 front facing camera. The entire phone is powered by a 2,530 mAh battery. Which is pretty large considering the competition.
As you can see the entire phone is wrapped in a brushed aluminum ring, then protected by that popular Kevlar coating on the rear. This year the entire back is covered in Kevlar for a soft-touch yet extremely durable and scratch resistant design. I'm actually a huge fan of the way it looks, feels, and handles the elements. The Galaxy S III is extremely slippery and will slide right out of your hand with ease, that isn't the case here. The power button has a nice textured design to make it stand out during usage — which is a nice touch — and the volume up/down rocker sits on the same right side with little lips on each end so you'll never misplace your finger. The left side real estate has the USB and HDMI ports, as well as a door (key provided) to open the side for SIM and micro-SD access. Sadly the battery isn't user accessible and there's two large screws on bottom keeping potential tinkerers from opening the device.
The Motorola DROID RAZR HD gets a pretty big thumbs up regarding hardware, but then again Motorola's always had some of the best. Sadly the aluminum around the phone isn't all uniform in color which should have been addressed, and it also causes a few sharp edges you'll notice during daily use — or we did at least. Overall the 131.9 x 67.9 x 8.4 mm size is quite large, but the Corning Gorilla Glass 2 on the front and Kevlar on the rear ensures this will be a durable device for years to come.
Software
With the RAZR HD you'll be getting essentially the same experience as the DROID RAZR M (see our review). That being a slightly skinned version of Android 4.0.4 Ice Cream Sandwich. Motorola states Jelly Bean is coming soon, and hopefully they can deliver on that promise considering Samsung already beat em to the mark — and Google owns Motorola.
As of late Motorola's versions of Android have had the least amount of changes compared to HTC and Samsung, and they've slowly improved the experience to something that's quite favorable. Their circle widget offers time, weather, and battery stats all with ease. Then a quick slide to the left will unveil all those quick setting toggles we love. The image above is a good idea of what to expect.
You'll be working with everything we know about in Android 4.0 Ice Cream Sandwich. Face Unlock is included, all of Google's apps and Motorola's smart actions for enhancing battery life is available as always where it will adjust based on users needs. As usual we have tons of bloatware from Verizon although we do enjoy a few awesome games and NFL Mobile. Bloatware includes: Amazon, Color, Modern Combat 3, My Verizon, Quick Office, Real Racing 2, Slacker Radio, Verizon Tones, Verizon Video, Verizon Voicemail, and of course Verizon Navigator. Here's a rundown with a few apps we've installed ourselves too.
Just like the DROID RAZR M, the RAZR HD is an awesome device in terms of software and performance. The dual-core Snapdragon runs extremely quick and stable, efficient, and once Jelly Bean arrives this device will be even better. We've experienced basically zero lag with daily use and are slowly but surely enjoying Motorola's "blur" user interface.
Benchmarks
Speaking of performance, we ran a few benchmarks just to make sure Android and the dual-core Snapdragon S4 was performing up to par. And as expected it handled things quite well. The older Galaxy S III still beats it out, however these results are the quad-core version. In general the 1.5 GHz dual-core S4 processor here keeps things plenty snappy. Here's a few results.
The new 1.5 GHz dual-core is just slightly faster in terms of numbers over last years RAZR and its 1.2 GHz dual-core, but there's much more going on under that chip. The performance is almost double, battery is much improved and extremely efficient. The RAZR HD will easily beat the older sibling across the board for those wondering about an upgrade. Is it needed? No, but will you notice a difference? Probably.
Camera and Battery
Both the camera and battery have been improved over last years RAZR. Motorola's cameras have always been lacking but this time around they appear to have things right. It is still 8 megapixels but shoots better images and video across the board. Pictures are clear, autofocus is fast and efficient, and pictures are easy to capture. 1080p video has also been slightly improved here too. Here's a few image samples as well as 1080p video.
Battery life also is rather impressive with the new RAZR HD. Thanks to the massive 2,530 mAh battery (original was 1,780) and the efficient dual-core Snapdragon S4 you can expect almost 30% better battery life — even though we have a bigger, faster phone, and HD display. With light usage my RAZR HD lasted just under two days. With heavy usage I still managed to achieve almost 30 hours of use. This will certainly last almost all users the entire day and beyond.
Phone and Speaker
Since this is still a phone we wanted to quickly comment on that aspect. Verizon's phone quality hasn't always been the best but voice to 4G LTE data trade-off was extremely quick. Phone calls were rarely dropped and it sounds great as an actual phone. Yes like something you talk into. We wanted to make a special mention about the speaker on back. Motorola's really done an excellent job here and I'd almost say the audio for speakerphone or watching a YouTube video is twice as loud as my Galaxy Nexus — and sounds great too. We wish all phones had a speakerphone of this audible level and sound quality.
Wrap-Up
The folks from Motorola and Verizon have another winner here. The DROID RAZR HD has improved in all areas to now offer an overall excellent device for just $199. For $100 more you'll also be able to snag the same top-notch smartphone in the RAZR MAXX HD with a 3,300 mAh battery if that interests you — and it should. Overall the hardware is excellent, feels great in the hand, and is extremely durable. The screen is large, bright, and crisp with HD resolution, and the camera takes better shots than anything from Motorola to date.
With Google taking over Motorola we're expecting updates to become more timely. The software is already quite excellent but everyone always wants the latest and greatest so that's worth mentioning. In the end the new DROID RAZR HD is everything we expected from Motorola. Nothing groundbreaking but a nice evolution from previous models. Having extremely similar specs to the Galaxy S III the choice is a bit of a toss up. Either way the brand new Motorola DROID RAZR HD and RAZR MAXX HD are available starting today, October 18th from Verizon. Go get one!
[device id=3497]