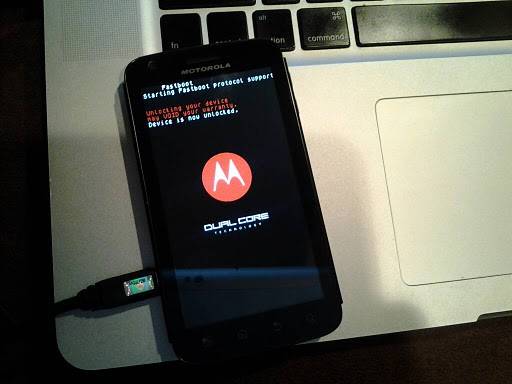 Just a few short weeks ago the Motorola Atrix 4G for AT&T was unlocked thanks to some sneaky developers and a leaked Gingerbread build. Unfortunately the rest of the world's Atrixes (or maybe Atricies) were not so lucky. Developers didn't sit around though and now freedom has been brought to the first dual core phone world wide.
The methods for the international versions are working, although they do appear to have a glitch which is affecting how much RAM the phone thinks it has. The exception is Spanish users, who have had bricks occur. Naturally it may be wise to wait a few days for the bugs to be worked out.
All this news is wonderful for Atrix users, myself included (that's my happy unlocked phone in the pic above). The rest of Motorola's phones continue to be locked down as tight as can be. We've been told the unlock method is coming, and apparently Motorola is testing the unlock method, since the ability to unlock the bootloader came from engineering builds for the Atrix.
Let's look on the bright side though. We now can flash ROMs, recoveries, and kernels to our Atricies. A few kernels, even overclockable ones, are already up at XDA. We're still waiting for ROMs, but there is someone from the CM team, @aliasxerog, working on the porting Cyanogenmod 7. Hopefully the wait won't be long. To unlock head over to XDA and follow their instructions. Freedom is sweet.
[via XDA]