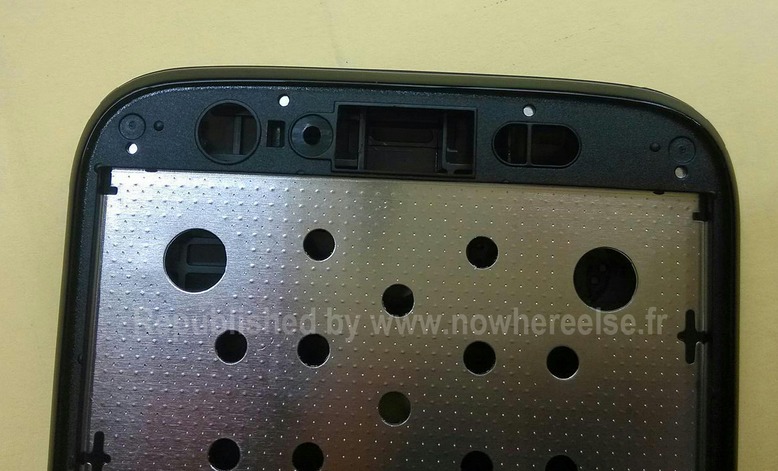 Today has seen its fair share of information about the Moto X, not the least of which is confirmation that the rumored July 11th press event is, in fact, just a private party, and that the launch date is still unannounced. We also saw a tip earlier today that the anticipated flagship handset will have a Clear Pixel camera with gesture controls. And now we're seeing some decidedly non-colorful images of the casing said to have been snapped on the factory floor.
The images were found over at Weibo by the French website NWE, and in them we see what is said to be the traditional black color common on most handsets, which will be offered to those who purchase the smartphone in a store rather than a customized one online. In addition, there's a white case piece that may be of the DROID Ultra rather than the Moto X.
As noted by NWE, the image above shows two SIM slots, aptly named "SIM 1" and "SIM 2," indicating that a dual-SIM variation could be in the plans. Likewise, as can be noted in the images, the speaker is positioned to the left of the camera rather than the right, which is featured on the leaked images purported to be different color casings for the back of the Moto X.
The color combinations revealed in the leaked images falls in line with the coloring found in the circle around Motorola's new "M" logo, which was revealed by Google not too long ago. In the logo, there are a dozen different colors featured, not including white, black, or grays, which we may be now seeing for the first time in the images in the gallery below.
Reportedly, the Moto X will also be available with custom engravings on the back. Thus far, the leaked specs claim the flagship smartphone will offer a 720p display, an 8-megapixel camera around back, and a dual-core Qualcomm processor under the hood. As always, we'll keep you updated when we know more, so stay tuned!
SOURCE:
SlashGear