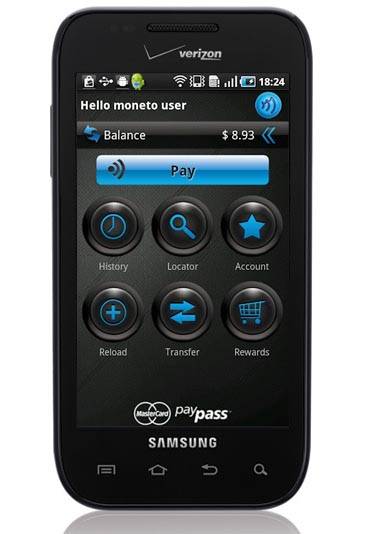 Want NFC capability? Stuck in a two-year contract with a phone that doesn't have it? Then you're in luck: Moneto is bringing near-field communication chips crammed into standard MicroSD card slots, and using an Android app to add in basic NFC payment capability to almost any Android phone. Theoretically, anyway: at the moment it only works on Samsung's original Galaxy S  and variants for United States carriers – the Vibrant, Fascinate, and the Galaxy S 4G. They're working on adding compatibility to about three dozen phones from Samsung, Motorola, Sony, HTC, LG, and Huawei.
The $29.99 package includes a 1GB MicroSD card with embedded NFC chip, a signal boosting sticker, and a debit card with $10 already loaded into your Moneto account. That makes the effective price $20, if you've got something you want to but from a merchant that accepts MasterCard's PayPass NFC system. That's right, MasterCard – Moneto can't magically certify your phone for use with Google Wallet, unfortunately. But their NFC system works in much the same way, associating your funds to your individual phone and card – the NFC payments should still work even when you have no cell reception.
As a short-term solution for spreading NFC, it's a pretty ingenious solution. (This is similar to, but distinct from, the Tyfone system we reported on almost a year ago.) If Moneto can get more devices supported and offer more dense storage in their cards, it could be a hit – until NFC becomes standard, or passes out of favor with both retailers and manufacturers. Head over to the Android Market to investigate Moneto's app if you're interested.
[via Droid-Life]