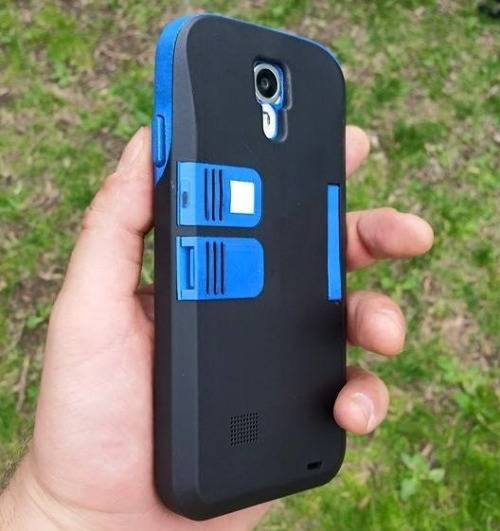 Aside from Project Ara, we've seen the Nexpaq modular smartphone case giving us some hope that modular devices have a future. Joining the bandwagon is MODR, a new modular mobile device case concept from Phonebloks. Yup, it's the same group that called on industry players to work on a modular smartphone last year.
The MODR is similar to the Nexpaq. It's a modular mobile device case that allows customization of tablets and smartphones using several expansion options. This is still a concept and the developers are trying to raise funds to bring this project into a reality.
This concept works for the latest flagship phones like the iPhone 6, iPhone 6+, Samsung Galaxy S4, S5, and S6. With MODR, you can add different modules. Called this early as reModules, they come with different functions: as an LED flashlight, microSD reader, camera flash assist, and NFC button. The reModules don't completely make a new phone or tablet. They are added to a case to make a better mobile device.
The MODR case can also accept bigger modules like a battery pack through an X-Port. Since this is just a concept, the company even added Bluetooth-powered speakers and Pico projector modules. Even lenses of the smartphone can be changed from macro to fisheye to zoom and to wide angle lens. These modules can be easily and quickly attached or removed via a very strong magnet. Since wireless charging is new, the MODR also offers support for wireless charging. This means the device is Qi compatible which can be charged on a special MODR Charge Mat.
The MODR project is currently on Indiegogo. Fund goal is $70,000 and more than half have already been raised and donated by more than 100 people and with 8 more days to go before deadline.
Here are some of the phones that will be supported in the near future: LG G3, LG G4, OnePlus One, Droid Turbo, Moto X, Moto G, HTC One M7, HTC One M8, HTC One M9, and the Note 4 Edge.
SOURCE: PHONEBLOKS