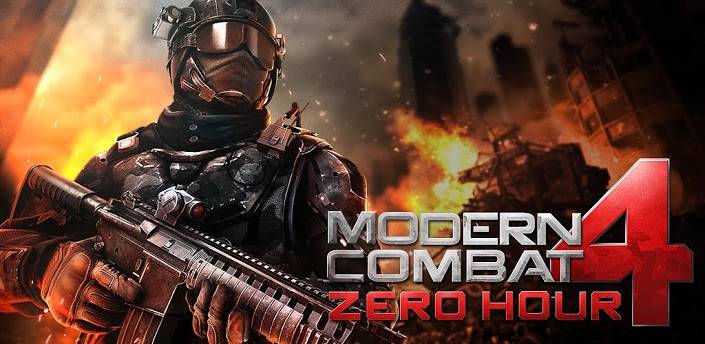 Today is shaping up to be a rather fun and exciting day for all you Android gamers. After two awesome games for Android both were released then delayed late last week, they are both back and available as we speak. Earlier today GTA: Vice City hit the Play Store, and now Gameloft's exciting shooter Modern Combat 4: Zero Hour has returned. Get into the action with more details below.
Today Gameloft has confirmed that their issues have been resolved, and MC4 is available right now for Android in the Google Play Store, just pony up $6.99 and you'll be blasting enemies Call of Duty style. This is the fourth installment to one of the best and most celebrated shooters on mobile devices. Gameloft also revealed full game controller support.
Modern Combat has always pushed the limits and boundaries with mobile graphics, and MC4: Zero Hour is no different. Shaping up to have some of the best graphics we've seen to date, and as close to "console quality" as you'll get. Now however, not only are the graphics console quality, but the gameplay is too. Modern Combat 4: Zero Hour was built from the ground up with full gamepad support. More importantly it supports the popular MOGA gamepad made by PowerA. Pair the MOGA with Modern Combat 4 and you'll feel like you're playing a console game — right on your Android smartphone or tablet.
Modern Combat 4: Zero Hour has improved graphics, awesome audio and sound effects, and a completely redesigned multiplayer mode with more than 20,000 different weapon configurations and more. Since the game was just released for Android the multiplayer numbers are quite small but we expect there to be tons of action in the coming days and this weekend. Get in while the pickings good and aim for the top spot in the leaderboards. Again MC4 is available right now so grab it from the Google Play Store. You'll also need the MOGA Pivot app to enjoy that experience.