Meizu is currently not a household name when it comes to smartphones and Android gadgets the way Samsung, HTC, LG, and Sony are. But one thing the China-based manufacturer can do, along with many of these upstart Chinese outfits, is to put pressure on the big boys with aggressive pricing and faster factory-to-market delivery in emerging markets. Meizu's newest flagship, the Meizu MX 5, arrives just after the company unveiled the M2 Note smartphone earlier this month, and looks to be a contender in the budget flagship niche.
One of the first things you will notice about the MX5 is its departure from the quasi-premium approach of the MX4 (metal band around the phone with plastic back) and went the whole nine yards with a full metal body. If that doesn't catch your eye, then the 5.5-inch Super AMOLED Full HD (1080p) display surely will. That is powered by MediaTek's newest baby, the Helio X10 Turbo chipset – with an octa-core proc at 2.2Ghz and a PowerVR G6200 GPU. Sure, you might not like MediaTek on principle, but their new products can definitely hold their own against Qualcomm's Snapdragon line, delivering premium features like Cat 4 LTE, 4K recording, and power efficiency at lower pricing.
The Meizu MX5 also comes with a fingerprint sensor, a trend with flagships that are being released this year. There is still a physical home key up front, although it has been given a more oblate shape – more Samsung than iPhone. You can get the phone with either 16GB, 32GB, or 64GB – and there is no microSD expansion available. Everything runs under Meizu's Flyme OS 4.5, which is their own rendition of Android 5.0. Under the metal plating, there's a 3,150mAh battery to keep the lights on.
The pricing is unbelievably aggressive – you can get the 16GB model at around USD$290, the 32GB model at USD$322, and the 64GB at USD$387. We hope to get a closer look at the unit soon – that will be the gauge to see if this phone is really worth its mettle. From the looks of it though, it looks like Meizu has come out with their strongest product yet.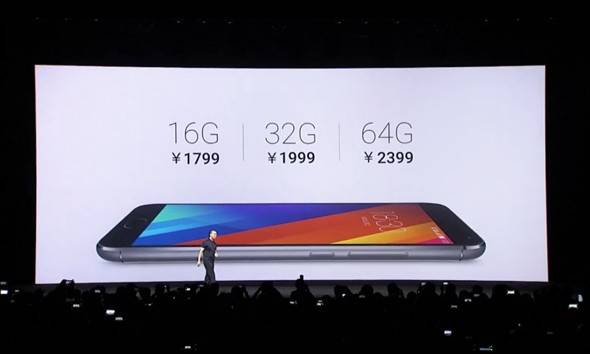 SOURCE: Meizu