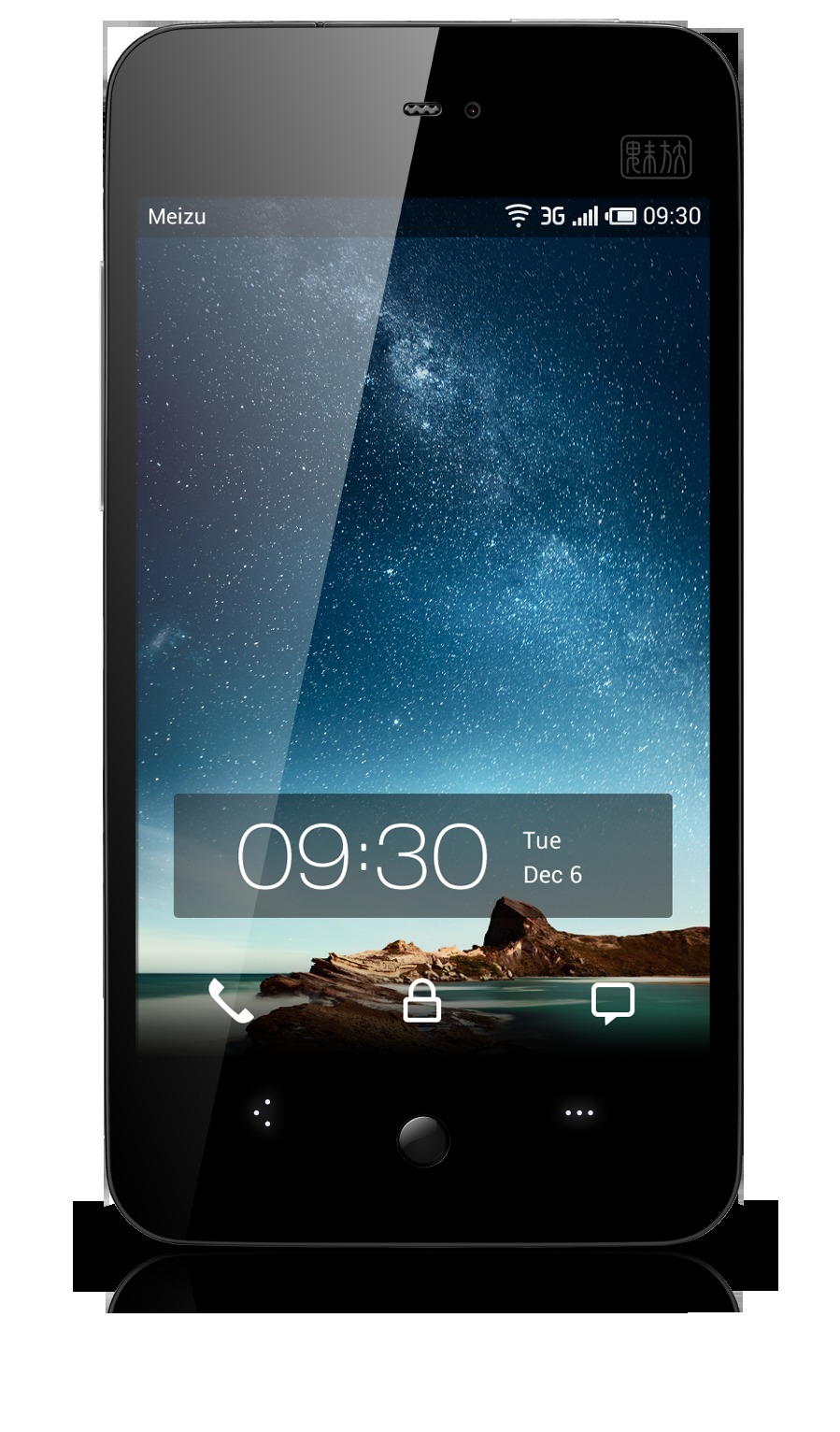 Meizu just broke the ice and finally announced its 2012 flagship smartphone, the MX. Headed to mainland China January 1st, expect an initial cost of ¥2,999 ($470). It will pack some serious power from the included 1.4GHz Samsung Exynos 4210 dual-core processor and 1GB RAM. It will also sport a 4" ASV display with a 960×640 pixel ratio. Initially, the device will only be available with 16GB of internal storage, but expect a 32GB version later on.
As you can see from the picture, the MX will certainly include a heavily masked version of Android 2.3.5; I've never been a fan of anything but vanilla Android, but this skin seems to appeal to my taste. Jack Wong (CEO) has also stated the device will eventually be updated to Android 4.0 (Ice Cream Sandwich).
The MX also has an impressive 8MP rear-facing camera supporting smile detection and an option for shooting panaramic photgraphs. It records in 1080p as well, but no HDMI output will be included. If you feel the need to go learn Chinese – go check out the official word on Meizu's website. Or just Google Translate it like the rest of us.
Press Release:
Calling all dreamers, the Meizu MX is unveiled

HONG KONG—9:30 AM GMT +8, October 6—Today Meizu unveils a new product, the Meizu MX. Borrowing the first two letters from the Chinese characters of the word "dream," or "meng xiang," the MX is a dream phone in all its senses. The MX comes with a dual-core 1.4GHz processor, 1GB RAM, 8 megapixel back-illuminated camera and LED flash, along with a gyroscope and other sensors. Its design is clean, intuitive and minimalistic, which is the result of countless discussions, prototypes, and revisions.

The Meizu MX has a gorgeous 4-inch, high resolution (292 PPI) AVS screen with the ideal 3:2 aspect ratio. Compared to wider 4.3-inch screens, the screen edges are easily reachable with your fingers, while providing better readability for text; both in horizontal and landscape mode. In addition, the phone comes with Meizu's unique Flyme OS, which features a custom designed UI, as well as cloud services such as data syncing, music store (China-only), and an applications market. The Meizu MX also features a Meizu-only innovation, namely our patented situation-aware bottom light keys.

MX offers ample connectivity and media sharing options such as a micro USB port, coaxial digital audio output, MHL, USB Host and other features.

A 16GB version of the MX will be available January 1, 2012 priced at 2 999 CNY.

With the MX, Meizu is taking its first steps into the international market. Meizu is opening a store later this month in Hong Kong, on Sai Yeung Choi Street, Mong Kok.

About Meizu
Founded in 2003, we began producing music players which later came to be world renowned. Since 2008, all our efforts have been focused on making great smartphones, which have made us one of China's most loved smartphone makers.

Since the beginning, something we have always held dear was the power of daring to dream. We believe in focus, in doing few things, but doing them really well. To us, focus is the key to achieving and exceeding our dreams. In focusing, our team is devoted, plans for the long-term, and strives for perfection. As a company, we want to transcend convention and imagination, with the ultimate goal of making products worthy of dreaming about.