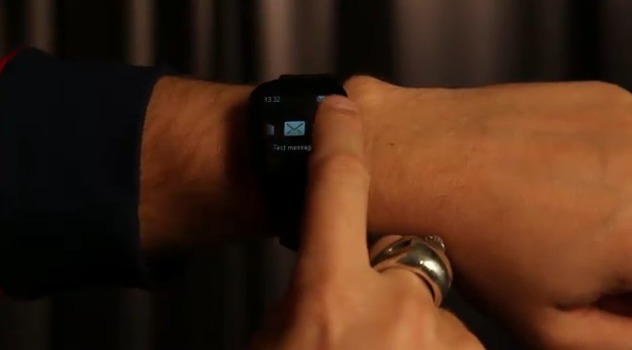 Since the launch of LiveView, Sony Ericsson has had some questions posted (somewhere or another) about how it works and what can be done with it. Sony Ericsson representative Marcus Hansson answers these questions and explains some plug-ins for Android apps compatible with LiveView in this informative 2-minute video. His first comment explains the baffling concept behind the design: "first of all, I want to make it clear that the LiveView is a small screen with buttons on it – it connects with BlueTooth to your phone. So it's compatible with all Sony Ericsson Android phones with 2.0 and above – it's also compatible with most Android phones with 2.0 and above." Easy enough, yes?
He then speaks about how you can use the device as a watch very easily, how it attaches to all manner of wristbands, then he gets to the "techie stuff." Developers, he says, will be able to develop applications to work on the LiveView – the two ways to do this are by using the "Announce Plug-in" for announcements or the "Sandbox Plug-in" which is a 2nd display that utilizes the buttons, vibrate, and LEDs. He then shows 2 maps which display how your application will work through the LiveView [images below.]
Hansson goes on to say that Sony Ericsson will soon be posting an SDK and documentation for developers so that they might make apps asap. He notes that the Announce plug-in is just what it sounds like, sending to your LiveView announcements from FaceBook, Twitter, text messages, etc.. The Sandbox plug-in, on the other hand, allows you to take over the whole screen – you'll be able to send images, use the vibrator (this way of saying use the vibration function in the device gets sort of lost in translation, lol), and you can control the application on your phone using the buttons on the LiveView.
Hansson directs you to http://sonyericsson.com/developer if you plan on creating for the LiveView and appeals to everyone to ask as many questions as they'd like on the LiveView. Take a look at the full video here, and be sure to look for Hansson's totally wild skull ring and the awesome "DE VEL OP ER WORLD" brand sound at the beginning of the video. It reminds me of the song "Television Rules the Nation" by Daft Punk. Rockin it!
https://www.youtube.com/watch?v=width="600px" height="300px"fRQxg13zSY8[/youtube]
[Via Sony Ericsson Developers YouTube Channel]