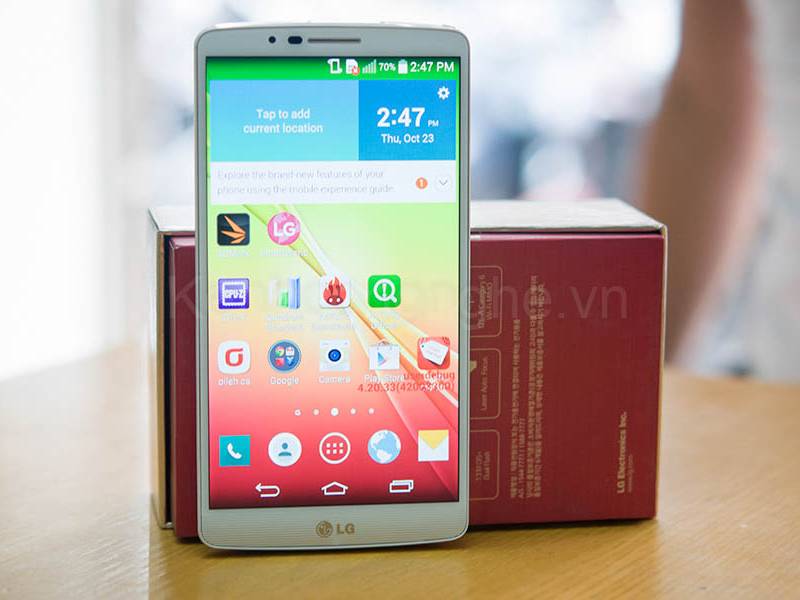 LG is creating quite a buzz with its supposed upcoming device, the LG F490 "Liger" (which is a lion and a tiger, geddit?). It might just be the first competitive device that will sport an LG-made processor – an octa-core processor at that – similar to what Samsung is doing with its Exynos cores. The F490 is not yet officially available, but it has shown up in Vietnam for a nice photo session.
As you can see from the pics, the device's screen is huge at 5.9 inches. It is said that the F490 is slated to compete with the Samsung Galaxy Note 4 and the Apple iPhone 6 Plus in the category of "smartphones with ginormous screens". And as with LG's usual way of doing things, the F490 will probably launch in the Korean market first – but most of us should expect an international version of this by mid to end of November.
What is interesting about it is that LG is trying its best to do a Samsung and produce its own processors. For the F490, it is rumored to be the Odin/NUCLUN octa-core processor, complete with big.LITTLE architecture at quad Cortex A15 1.5Ghz and quad Cortex A7 1.2Ghz cores. Nothing bad with that, but nothing bad with Qualcomm cores either, which has octa-core solutions if needed. Does LG need to prove itself that it can put out its own procs? In my book, they don't need to – but this looks like it.
The F490 will reportedly have 2GB of RAM, and on a screen this big – 5.9-inch Full HD 1776×1080 – your performance might take a hit, even with 8 cores. That kinda shows with a middling AnTuTu benchmark result – which probably points to a lack of RAM (3GB would be better) or a GPU that is not up to spec. The benchmark result at 25460 is great, but to compete with the Galaxy Note 4 and the iPhone 6 Plus, the F490 has got to do better.
SOURCE: Kenhcongnghe.vn