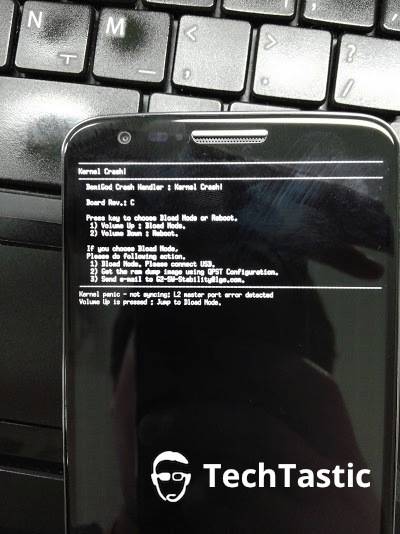 There is still some speculation in terms of LG and a Nexus 5 and while those details still need to be worked out, it looks like we are getting a new look at another yet-to-be-announced LG smartphone. The handset is the Optimus G2, which in addition to this sighting, an image leaked earlier in the month. This latest Optimus G2 image leak can be seen below and while a quick glance appears to have the handset showing nothing more than a kernel crash screen, it does contain one interesting detail.
Looking closely at the text in the display and next to the number three we are seeing an email address of G2-SW-Stability@lge.com. Granted, this is nothing more than an LG email address that is seemingly used to collect crash reports, however that G2 tells the story of an Optimus G2. Remaining details would lead one to believe the SW stands for software. That said, it appears as if we have not gotten another look at the LG Optimus G2 smartphone.
This brings the possible connection to the Nexus 5. If you remember back to the Nexus 4, that handset was based off of the LG Optimus G. Following that pattern, the Nexus 5 could be based off of the LG Optimus G2. We have yet to see much in terms of specs for the Optimus G 2 though.
At this point we have seen rumors suggesting the handset will arrive with a 5.5-inch 1080p display and powered by a quad-core 2.3GHz Snapdragon 800 series processor. If nothing else, the earlier leaked image did provide a look at what appears to be handset with a large display and a small bezel.
Also worth noting, that earlier image had the handset shown without any hardware navigation buttons. All said and done, there obviously still needs to be an official announcement, but in the meantime it looks like the Optimus G2 and Nexus 5 hype is going to continue to build until that official word comes. With that, make sure to hit up our LG Optimus G2 portal for some of the earlier coverage.
SOURCE: TechTastic