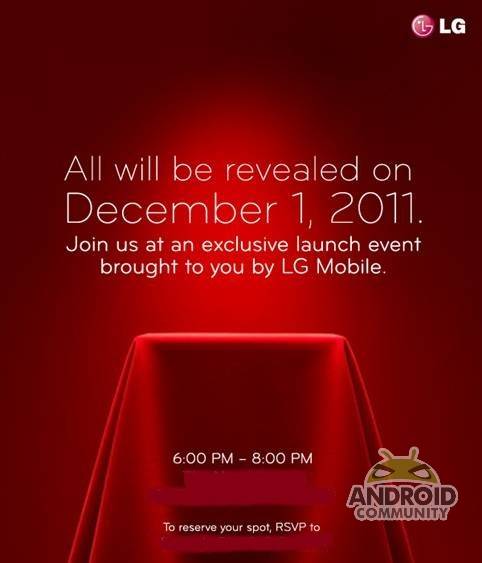 It looks like LG is all set to start doing a few of their own exclusive launch event parties for upcoming smartphones because we've just got word that LG will be holding an "exclusive launch event" on December 1st (next Thursday). The invite sure doesn't give us a lot of details and everything is hidden under red drapes as you can see from the invite image but we have a few guesses already.
We have a feeling this will be the Optimus LTE known as the LG Nitro HD 4G LTE phone for AT&T. I know your first thought is wait — the Nitro HD is for AT&T but this invite is covered in red, heavily suggesting Verizon. The invite doesn't give us any details but sadly it appears the image file was named LG Nitro according to a few other sources. A big oopsies moment indeed. We aren't sure if this will be a device for AT&T or Verizon for sure, but we'll know soon.
We've already seen plenty of the impressive LG Optimus LTE and it boasts a 4.5″ NOVA display that should be amazingly bright and rocks a 1280 x 720p display, a dual-core 1.5 GHz Qualcomm Snapdragon processor, 1GB of RAM and rounded off with the usual front and rear facing cameras. The recent press images of the LG Nitro HD confirmed it was headed for AT&T so that is where we got that idea. Either way we'll all know for sure come December 1st what LG has planned.
We'll be sure to bring all the details come next Thursday so if this interests you stay tuned right here at Android Community.