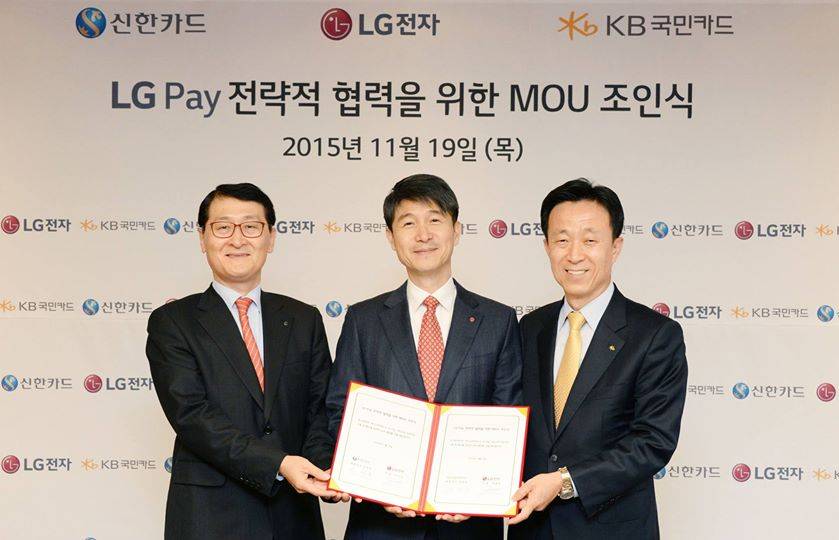 Last October, LG was caught filing for 'G Pay' trademark in the US and South Korea. That was the start of speculations about a new mobile payment system will soon be launched by LG. The Korean tech giant was believed to be already working on its own payment system and it finally was confirmed by a special announcement by LG Mobile last week.
The new mobile payment method is now official and it's not called 'G Pay' but simply as LG Pay. Perhaps not to deviate from the names Google Pay, Samsung Pay, and Apple Pay–three of the latest mobile payment services introduced in the mobile market–LG decided to just add "Pay" to the brand name. That's easier to remember. Giving it a more complex name might drive away potential users.
It was only last week that LG announced its partnership with Shinhan Card and KB Kookmin Card. The company is already preparing for the LG Pay's launch although there was no mention when exactly. We just know that such digital payment service will be available soon after the technology is done.
LG partnered with the biggest credit card firms in South Korea so we can expect it will capture a large portion of the market. Well, at least, just for the LG smartphone users. Right now, we only know that it has an advantage compared to the Samsung Pay because the latter, you can only use on the latest Samsung models while LG Pay is set to work on all LG phones. We're not sure what technology LG Pay will be using so let's wait and see for the public launch.
VIA: Reuters
SOURCE: LG Mobile