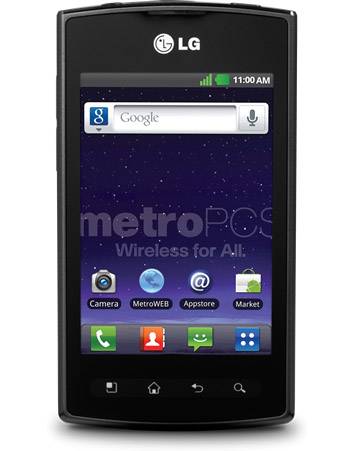 Most of the coverage for Android goes to big, powerful and expensive mega-machines, but entry-level phones need love too. So we're happy to tell you that LG's Optimus M+ is now available for MetroPCS customers. The mid-range phone was first spotted last month as an upgrade to the original Optimus M, and it's available now for $129 without a contract. It won't wow anyone who's holding out for, say, the Optimus 4X HD, but it looks like a solid smartphone at a reasonable price.
The Optimus M+ gets an upgraded 3.5-inch screen (up from just 3.2 on the original) and since MetroPCS isn't saying what the resolution is, we'll guess 480×320 as in the previous leak. Shutterbugs can get some decent shots with the 5MP camera and included LED flash, though there's no front-facing camera. Internal storage is limited to just 2.8GB, so it's a good thing that the phone comes with a MicroSD card slot.
The Optimus M+ is running LG's customized flavor of Gingerbread on an 800mhz processor, and no, you shouldn't hold out for an Ice Cream Sandwich update any time this decade. And one more thing: MetroPCS' website claims that the Optimus M+ has a 3200mAh battery – just a little smaller than the gigantic battery in the DROID RAZR MAXX. That's probably a typo. The phone also has access to Rhapsody Unlimited on MetroPCS' $60 a month unlimited data. talk and text plan.
[via Cnet]