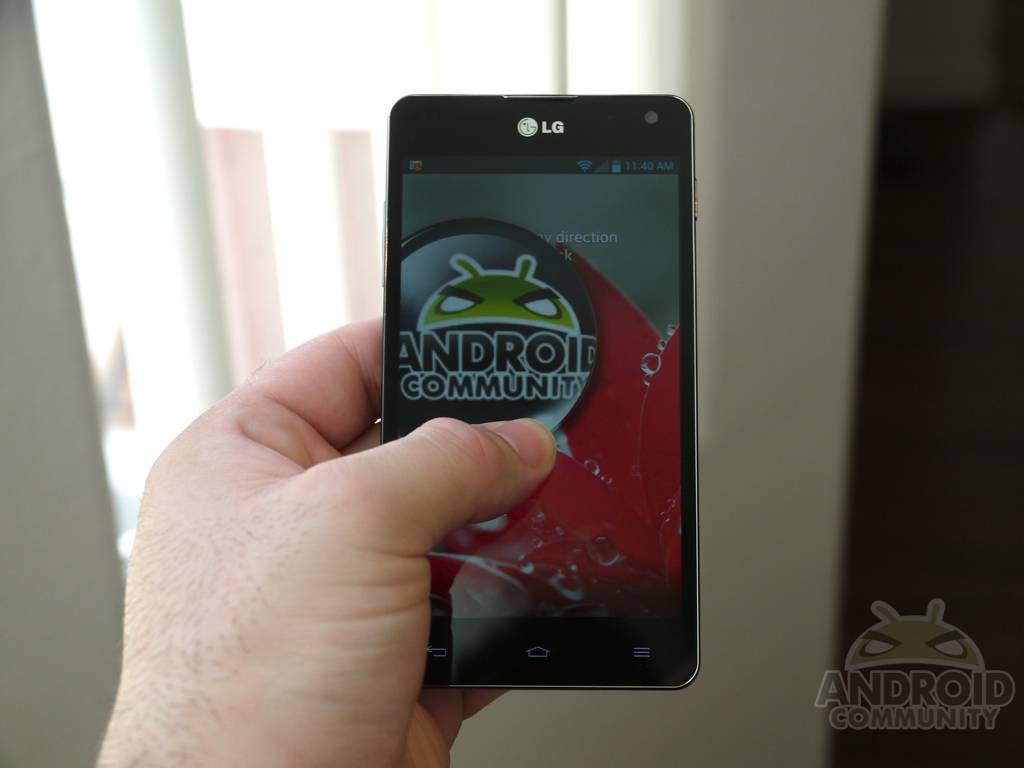 The folks from LG are reaching towards the high end with their latest smartphone. That being their new flagship LG Optimus G powerhouse. When you think of top-tier specs or a dream smartphone, the LG has almost everything you'd like. With an HD screen, quad-core processor, 4G LTE (sort of) and awesome hardware can this smartphone do it all and earn your hard earned cash. Read on to find out what we thought of the Optimus G.
With the LG Optimus G, the OEM is aiming for and hitting the top-end of the smartphone battle. They've tossed all of their lately technology, and others, into one and made one of the most powerful devices on the planet. LG's really stepped up their game and hopefully they do the same with the software and update side of things. Can LG's new flagship compete with the Galaxy S III and others? Only time will tell. Out of the gate we'll be completely honest. This is an awesome all around device that is hindered by a terribly slow 3G network. AT&T's model however has 4G LTE all across the country. More on that below.
Hardware
This hardware needs no introduction, but we'll run down the impressive list just to be sure. The LG Optimus G powerhouse rocks LG's new ZeroGap technology 4.7-inch TrueHD IPS+ display with a beautiful 1280×768 HD resolution. ZeroGap enables the display to be closer to the front glass for a crisper image, brighter colors, vivid text, and a better more accurate and responsive experience.
Under that beautiful HD screen is Qualcomm's (also brand new) Snapdragon S4 Pro quad-core processor running at 1.5 GHz. You'll get 2GB of RAM, 32GB of internal storage — which is not removable and swappable like the AT&T model — 4G LTE speeds in select cities, a 2,100 mAh battery and a massive 13 megapixel rear camera. AT&T chose to dumb down the camera, while the Now Network used the 13 megapixel BSI sensor for awesome images. Then you'll get a 1.3 front shooter as well. You should probably start with our hands-on and unboxing, then enjoy our detailed hands-on video below.
The hardware here from LG is excellent. It truly is. From the display, the simplistic yet unique design, their glass-like rear panel covering that 13 megapixel camera and more. LG's hardware has always been fairly nice, it's the software that worries most. Other than the Gorilla Glass 2 protected front, and rear panel, the rest is a hard plastic and feels extremely durable in all aspects. This is by far LG's best smartphone to date. There's no doubt!
In the gallery above you'll get another look at that stellar hardware. The power button is alone on the right edge and easy to locate, the bottom houses the micro-USB for charging and a few screws to keep the back and battery non-accessible without some work, then the microphone. The left edge gets the volume up/down, and when pushed at the same time enables their QuickMemo app to write on the screen. Then up top you'll enjoy the 3.5mm headphone jack and that awesome 13 megapixel camera on the rear with LED flash.
LG's crystal reflection design on the rear is rather unique. You get a lot of reflection from lighting that always makes the back look textured, but it's smooth and very glass-like in feel. Although LG isn't calling it glass, it certainly can be cracked so use caution. In the end the hardware gets a massive thumbs up from us. Only negatives is the 13 megapixel camera causes a large hump on the back, and the non removable battery or storage is something we're against. We'll end on a good note. The LG Optimus G has absolutely no carrier branding! So that's a plus.
Software


As you saw from our video above, Android 4.0 Ice Cream Sandwich is extremely quick and stable, but LG's skinned it to the teeth with customizations. While we actually loved all the options available, we almost feel as if they're trying too much. Keep things sleek, simple, smooth, and stable and we'll all be happy. Their home launcher is extremely customizable like many 3rd party options, as is their animation effects, battery meter on the notification bar and more. It's a fine blend between a stock device, and a custom ROM. Very interesting approach. Menu's have been completely redesigned, the launcher is very custom, Wise Screen keeps the display on as long as the front camera notices a face is present and more. They've done a lot of good things here, but plenty of bad too.
I can't help but feel as if they are slowly copying Samsung. Right down to the UI changes and sounds. Screen lock and unlock presents a nice water drop sound, exactly like the Galaxy S III that launched months ago. We also have a very similar S-Pen like function to draw on screen, save documents, or screenshot and take notes on images and emails. LG's QuickMemo feature works great, and can be toggled with a widget in the notification bar, or holding volume up/down at the same time. For a better idea of all the changes mentioned above, and the hardware/software as a whole take a peek at our video review below.
Aside from the obviously changes shown above Android 4.0 Ice Cream Sandwich is exactly as we expected it to be. We're impatiently awaiting Android 4.1 Jelly Bean to arrive, and even more impatient for 4G LTE. The Now Network certainly has been slow in that regard, and this device is completely cut off at the knees because of that. Without 4G LTE Sprint's 3G network is painfully slow. To the fact that updating more than a single app in the Google Play Store takes forever unless you're on WiFi. At least that's the case here across the greater Las Vegas valley. Other than a few carrier specific apps there's essentially no software bloatware or preinstalled apps, so that is a plus. Hopefully LG can get updates out fast and efficient, as that is another KEY aspect of staying in the top-tier along with Samsung and HTC.
Performance and Gaming
Enough talk about hardware and updates, how is performance? This thing is an absolute beast in all aspects. From browsing the web, enjoying some videos, playing HD games on that 4.7-inch display and more. Qualcomm's Snapdragon S4 Pro quad-core processor is easily the most powerful chip on the market. Blowing past 7000 in Quadrant with ease. Seriously nothing stock comes close. This isn't just impressive on paper — it's impressive in general. Check out these benchmark results, as well as some hands-on videos with multiple games. The quad-core keeps everything running exceptionally smooth no matter the task!
As you can see from the videos above, gaming performance is absolutely stellar. Between that 4.7-inch HD screen and a quad-core processor this is the ultimate gaming experience for those who love mobile gaming. So, with the LG Optimus G you can be a gamer, multi-task with ease, blow through the benchmarks, and be a business professional with QuickMemo and more — all on a single device.
Phone and 4G LTE
As an actual phone the Optimus G is pretty great too. If you're not all about gaming you'll be happy to know the call quality is great, texting is easy with the massive display, and the external speaker gets fairly loud. The problem with the LG Optimus G here isn't the hardware, software, or anything else. It's the carrier! The Now Network is dead slow compared to the competition. Even T-Mobile's aging 3G network and 4G HSPA+ blazes past the 3G of this device. I never once saw over 1 Mbps download speeds, not once. They are slowly rolling out 4G LTE but at the end of 2012 approaching Verizon reaches over 400 markets with their LTE, AT&T is in close second, and these guys will be lucky to have 30. Unless this device has 4G LTE the experience severely lacks without a capable WiFi signal to keep you company.
Rather than continuing to say why you should or shouldn't get the Optimus G, we'll just put it simple. 4G LTE completes this stunningly beautiful and fast device, and the device isn't complete (or competent) without it.
Camera and Video
Just like the international version we're working with a 13 megapixel camera here — and it is awesome. From daily photos, indoors, and low-light situations it performs great. You'll compromise on the sleek design for a slight hump on the back but if you enjoy taking photos with a smartphone, this phone is a great choice. Here's just a few of many we snapped along with a 1080p video demo.
Battery
Battery is something we can't accurately judge given that we aren't using a 4G LTE network. But at the same time most users that opt to purchase this device won't have 4G LTE yet for a few more months either — so it goes either way. Being equipped with a 2,100 mAh battery you're likely to get through an entire day ok. The main factor hear is that 4.7-inch display. LG's touted it to be more efficient than anything else, but so far it seems about the same as most. As long as you don't have 6 hours of continuous screen-on use, you'll make it through an entire day on a single charge. We've managed well over 24 hours with moderate usage. Here's a quick screenshot.
Obviously once the battery hungry 4G LTE radios get churning under the hood these results will likely take a small dive. Until we can further test their 4G LTE network it isn't known how much of an effect however. Qualcomm's 4G LTE radios seem quite capable so this shouldn't be a cause for concern.
Wrap-Up
This device is clearly LG's best device yet. They have added some of the most cutting edge mobile options all into one package. With an HD display, quad-core power, 4G LTE (sorta), a stunning 13 megapixel camera and more all while keeping it extremely sleek and user friendly. While the 4G LTE data speeds are extremely important to most, if you aren't too worried about that front this is certainly the device to get from the carrier.
4G LTE and carrier problems aside, this is one stellar smartphone. LG and Qualcomm came together to produce a stunningly nice and powerful smartphone that will rival some old netbooks. In terms of the hardware this is by far one of if not the best smartphones available today. Hopefully now that LG is also making the LG Nexus 4 they'll be quick to software updates. The only downsides I see to this otherwise excellent device is software updates, and the lack of a good data connection. You might need to head into your nearest Now Network retail store soon and get hands-on to truly feel the power yourself. Enjoy the rest of the pictures and camera samples below. Who's buying?