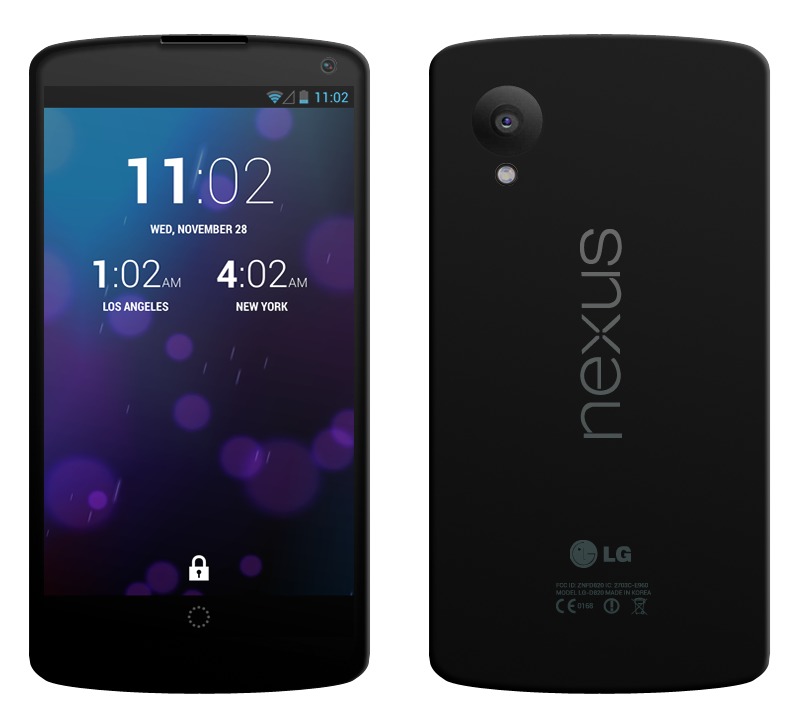 This week was absolutely full of juicy Android news regarding the next version of our favorite OS, as well as the Nexus which that software will debut on. We're talking about the Nexus 5 of course, which leaked multiple times this week. Including some FCC documents revealing all sorts of important information. Below are multiple renders based on leaks, the image from Google's campus, the FCC filing and more all blend into a beautiful look at the future.
Initial reports and suggestions believed the Nexus 5 would be based on the LG G2, which it still probably is, but the FCC filing last night reported a 4.96 (basically 5-inch) display, instead of the 5.2 we have with the G2. You'll still enjoy a 1080p full HD display, and it also confirmed the previous back and forth rumor on the processor. It looks like we'll be enjoying the blazing fast Qualcomm Snapdragon 800 quad-core at 2.3 GHz with 2GB of RAM. Love it.
After Google shocked everyone and announced Android 4.4 KitKat, which was followed up by a video of the KitKat statue arriving at Google HQ. Quickly someone noticed a unknown Nexus recording the unveiling, and that's a large part of where the design is coming from for the above and below concept (not official) renders we have here today.
Last month rumors suggested a design similar to the Nexus 7, to make them appear more like a family, right down to the camera placement and lens design as well as the soft-touch back material. The image from Google confirms that, so we'll be paying attention to that source moving forward.
So what do we know so far? Aside from a 5-inch display, Snapdragon 800 quad-core, 13 megapixel camera and Android 4.4? Well, the FCC filing revealed plenty of good, and some bad. This thing is packed so full of radios it will be supporting almost all carriers. 4G LTE for AT&T, T-Mobile and Sprint appear to be on board, as well as CDMA, GSM, and nearly every US band imaginable. Sadly, and it pains me to say this, absent was the Verizon 4G LTE band 13.
It looks like that love/hate relationship will continue and Verizon won't be supported on the Nexus 5. I'm praying that changes by the time this is released. There's a glimmer of hope, as it does support their 3G CDMA, but we seriously doubt Verizon will let it use them, as they won't launch a 3G only device.
One other issue we're seeing with the FCC report is a 2,300 mAh battery. Seriously? On a 2.3 GHz quad-core device with a 5-inch display. The LG G2 sports a 3,000 mAh battery, even the Galaxy S4 is 2650. This Nexus better use the same LG battery tech as the G2 and boost that battery size, or we'll have another sub-par Nexus battery experience. We're hoping this will also change. Sigh!
While we're sharing all of these fan-made renders, another appeared over at The Verge, which you can see below. This has a bit more detail and slightly changed up the camera and surrounding metals. Either way, the device is looking really pretty. The FCC reports the device might actually be slightly smaller than the Nexus 4, and thinner. All of this is thanks to the world's thinnest LG display, and the super sleek and slim bezels. A comparison can be found below.
This is just about everything we know thus far, and surely now that the Note III is here most leaks and details arriving the next few weeks will be all about the Nexus. If Google follows last years rollout, we could see a late arrival in October for the Nexus 5. Get excited!
VIA: Reddit