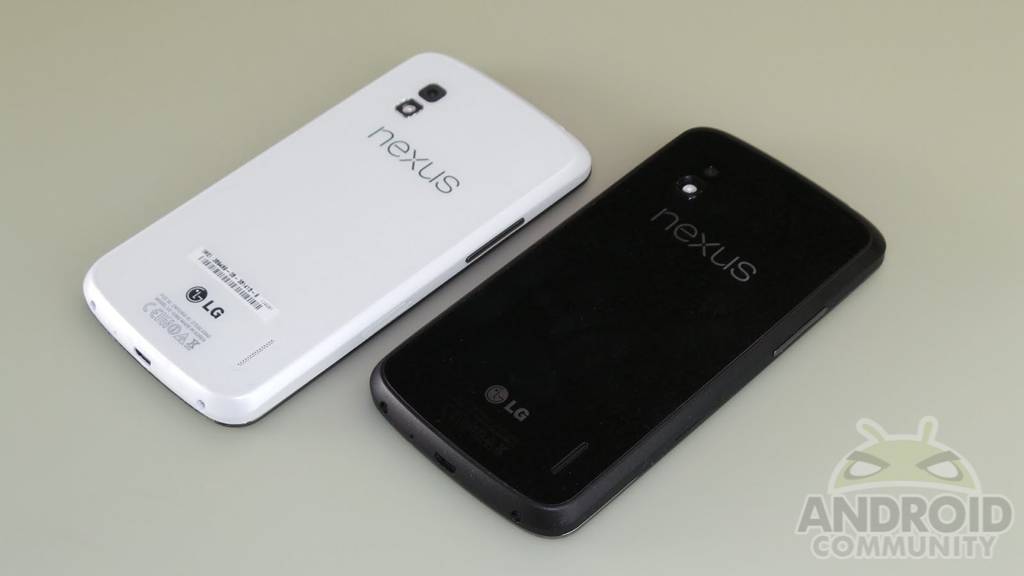 After countless leaks and speculation the folks from Google and LG finally made the white LG Nexus 4 official. It's the same Nexus we know and love, with a nice new paint job. After plenty of talk at Google I/O about a white model with Android 4.3 Jelly Bean getting announced we were excited, but it's still just on 4.2.2, for now at least. Read on for more details and a quick unboxing with Google's other baby. That being Google Glass.
This morning Google announced the White Nexus 4, and we should be seeing it hit the Play Store with a brand new matching white bumper case starting tomorrow, May 29th. We've seen the phone multiple times, and it's essentially the exact same smartphone, but we'll talk a look anyways.
Obviously as some of you may notice, the device isn't completely white. Instead the back and sides have a nice rubbery white paint job, while Google opted to keep the front fascia black. Some like it, some don't, but at least we have the option. Then the same popular bumper case is now available in white and would even look good on that Black Nexus 4. Take a peek at both below.
Of course we're working with Android 4.2.2 Jelly Bean, the absolute latest version of Android from Google. Although many rumors and speculation have Android 4.3 being announced and pushed to Nexus devices starting June 10th. So we'll have to wait and see. You'll be enjoying the same 4.7-inch 1280 x 768 IPS HD display, and Qualcomm's Snapdragon S4 Pro quad-core processor here.
We'll get the same 2GB of RAM and 8GB of storage, as well as a 16GB model being available. The device enjoys a decent 8 megapixel camera, NFC, and a 2,100 mAh battery. There's nothing new here folks! So here's a look at the bumper case too.
A few subtle differences here are the little nubs or feet on bottom to keep the devices back off of the ground. This should help prevent that glass-like design and camera lens from getting scratched. So basically here it is guys. The Nexus 4 officially in white. We really don't need to pound this home. It's the same device with a different color. The important part will be Android 4.3 whenever that gets announced. For now enjoy a few pics below and stay tuned for when the next version of Android drops. Because we'll be all over it!