More cloud storage options anyone? Between Google, Microsoft, Apple, DropBox and many others the choices for cloud storage are quite broad, but today we have learned of another. LG is set to announce their new all-in-one cloud storage and streaming services soon. Just like many others you'll get 5 GB of free storage but we have all the details below.
With the LG Cloud users will be able to squeeze content between PCs, smartphones, tablets and smart TVs. And it's even fully compatible with 2D and 3D content. With LG's cloud you can enjoy 2D or 3D video that streams in HD (like .MKV files) all "almost instantaneously." LG's Real-time Streaming Transcoding technology will tailor to whatever device you're streaming on whether it's a PC or your Android smartphone.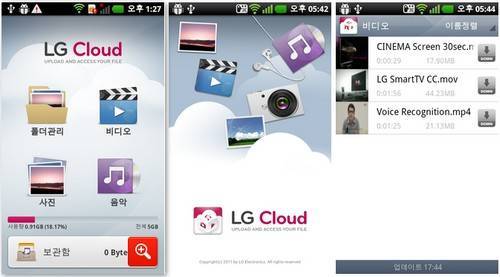 The LG Cloud will launch as a limited beta tomorrow, May 1st for many parts of the world, although it's already available in South Korea on the Google Play Store. LG is set to hit the ground running and will release the app for Android, LG Smart TV's, and desktop users — so the offering should be quite complete although Windows Phone 7 users might be out of luck.
Just like most of the competition both free and paid versions will be offered. Initially, LG is offering 5GB of free space for users in Korea – matching Google Drive – with 50GB of extra space free for six months for those buying LG phones or smart TVs.
[via SlashGear]