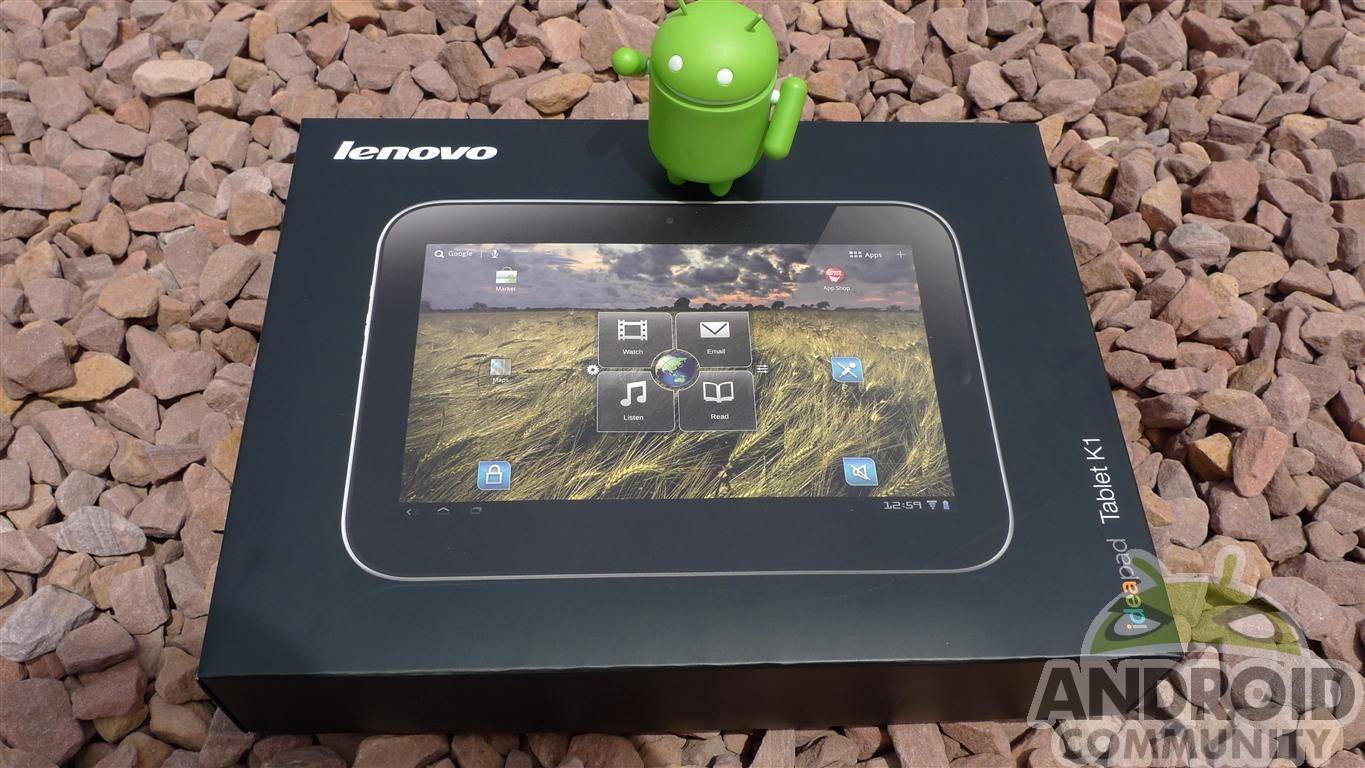 Today up for review I have the Lenovo IdeaPad K1 Tablet. This is Lenovo's first venture into the Android world and so far they've made a great impression on this Android enthusiast. Great hardware with a few small tweaks to Android 3.1 Honeycomb that doesn't distract from the experience and only enhances it. It's safe to say so far I'm pretty pleased and have been using it all week.
We will get started with the hardware for you all. Make sure you watch the hands-on and unbox video to get a good look at the device.
Lenovo IdeaPad K1 Tablet Hands-on & Unbox Video
[vms a5a58079f0f3526c87c5]
Hardware
The Lenovo K1 Tablet features most of the specs we have seen thus far from Android tablets so it is nothing new. We have a dual-core NVIDIA Tegra 2 CPU clocking at 1 Ghz, 1GB RAM, a 10.1″ 1280×800 LED Display as well as the usual ports. We do get HDMI-out and multiple internal storage options coming in at 16GB, 32GB, and even a 64GB flavor.
The left side features all the goods with a Micro SD slot, noise cancellation pinhole, the screen rotation lock/unlock switch, volume rocker, power button as well as the microphone.

Around bottom things are a little bit simpler and we have the docking, syncing and charging port as well as the 3.5mm headphone jack and the micro HDMI-out.

The right and top of the device are free of any ports or buttons so the design is pretty simple and elegant. Lenovo has been building great laptops for a long time so hardware isn't an issue and the build quality is top notch. We do have a dedicated home button unlike most Honeycomb tablets but I actually like it because its right where your thumb always is and you don't need to move a hand to hit the on screen home button. It also serves a double purpose and you can long press for native screenshots. I love this and I'm glad to finally see a tablet get it stock, makes reviewers like me plenty happy.
As far as hardware I also must mention the rear of the device. Not only do we have a 5MP camera with flash but it has a soft touch plastic-like texture covering the back that I just love. Its comfortable like a couch or car seat and really makes handling the device just that much easier. Going from the Lenovo to my Xoom I really missed the back coating and even though it adds a bit of thickness to the device it isn't enough to notice a difference and really is a nice touch.
It is a plastic texture and it not only helps with your grip but makes setting the device down easier and it wont be sliding around on the table.
Software & Performance
Now it came to market with Android 3.1 Honeycomb so if you've used a honeycomb tablet this is nothing new. Android 3.1 runs smooth and just as we all love. Multi-task scrolling is one of my favorite features of 3.1 too. The OS is just as you'd expect but with a few enhancements such as the custom launcher and slightly different icons for navigation.
The Lenovo launcher pictured above is fully customizable to exactly what you want. You can change the tile shortcuts and background color as well as transparency for the entire thing. It gives you instant one touch access to things like music, gallery, browser, calender and more. You can choose games or anything you'd like.
Lenovo has also added another quick launch shortcut for some other popularly used apps that is all customizable by user preference as well. They have a rotating app launcher that you can use to quickly open things like Facebook, Twitter, Angry Birds, your favorite file manager and more for those that don't want to hit home just to open the app tray and search for an app. This is one more small enhancement that is not intrusive and adds to the overall seamless experience.
Next up we will talk about performance. Other than a few small issues I've had with responsiveness while waking the device where sometimes it takes 2-3 seconds before I can slide to unlock everything else is blazing fast just as you'd expect from a dual-core NVIDIA tablet. We ran a few benchmarks as we love to do and the results were pretty impressive. Quadrant came in rocking and scored over 1900 in all of my three test runs, a pretty impressive score for such a large screen.
We also ran a new benchmark called Vellamo that tests overall browser performance. This can differ from device to device based on how well the internals all work together. From page rendering/scrolling, HTML5, JavaScipt, V8 network performance tests for loading web pages and more. I've ran this on multiple NVIDIA Tegra 2 tablets including the Xoom and the Galaxy Tab 10.1 and the Lenovo actually beats them all. For having the same or extremely similar internals Lenovo must have done something right.
We also have the Lenovo App Shop that is easy access to Tablet specific apps thanks to Lenovo. It has a similar feel to it with scrolling and flipping through applications but the overall use was a bit confusing at first. I did however download some very fun games from the Lenovo App Shop that were worth the download that is for sure. They feature a deal of the day and have awesome useful apps like memory managers and more.

To finish with software I wanted to mention all the awesome applications that came pre-installed. This is another area where Lenovo has went above the pack and outdone the rest of the devices on the market. Pre-installed apps are actually useful and worth a pretty penny so make sure and thank Lenovo for that. We have documents to go ($29 Value), Netflix, Angry Birds HD, Galaxy on Fire 2, Warships, Solitaire and Spades, Kindle Reader, Zinio Reader, File Manager, Need for Speed Shift HD, Photo and Movie Studio, Slacker Radio, Norton Antivirus and more. They've truly outdone the competition regarding application options out of the box.
Camera
It features a 5MP camera on the rear with LED flash. Some phones have been coming with 8 MP cameras and more but most tablets have only seen 5 MP. It is just as you'd expect, takes good pictured but nothing amazing. Here are a few samples for those interested in the camera.
Comparison
Just for a little comparison I did pull out my Motorola Xoom. The Lenovo tablet is bigger than the Xoom but also lighter. With the soft touch back and the silver finish fingerprints are not an issue, something that drove me nuts with the Xoom. While the Lenovo is actually a tiny bit thinner than the Xoom the soft rubber mat on the rear of the device makes it seem fatter but in reality it's not. Here is a quick comparison and more will be posted below.
Wrap-Up
To wrap things up I'll start by mentioning the battery life is amazing. I've not charged the device for over 2 days and I've used it a considerable amount, from browsing the web, playing games and doing plenty of benchmarks and I'm still around 35% battery. Obviously using it non-stop you might only get 8-10 hours of battery life but off and on throughout the day it should last for more than a few days.
While I wish the device was a bit smaller around the bezel and also thinner like the Galaxy Tab, using it after using my Xoom for the past few months I completely love it. I think I'll just keep using the Lenovo K1 tablet instead. The screen is brighter and has better contrast, its easier and more comfortable to hold as well as lighter. I think if you are in the market for an Android 3.1 Honeycomb tablet your best option would be the Galaxy Tab 10.1, the Lenovo K1, or the Asus Transformer.
For full device specs check out our new device.ac database or in the graph below. Feel free to click all the photos below for the full size preview. Thanks!
[device id=764]