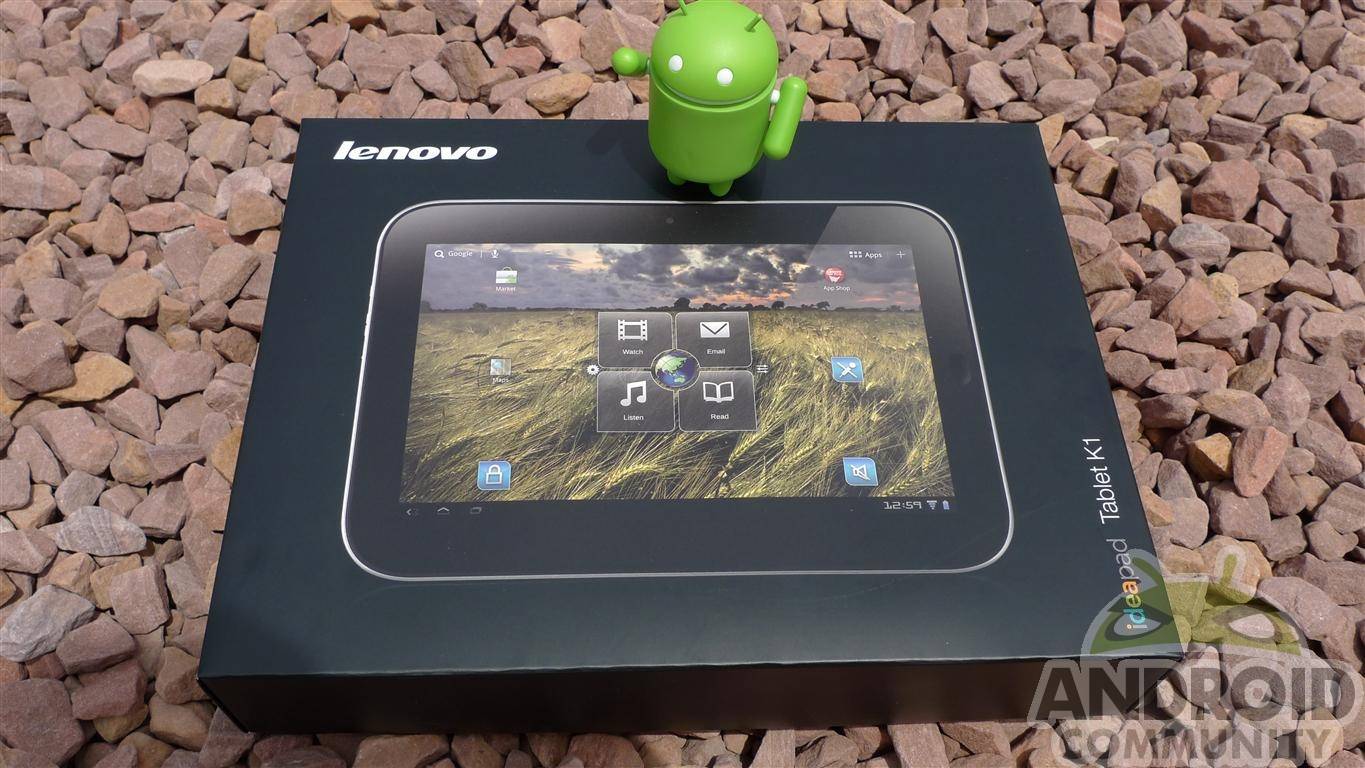 We have seen more than a few leaks for the Lenovo IdeaPad K1 Tablet but today I actually have the device here to get the good times rolling. Lenovo officially released it back on July 19th and we were able to get some hands-on real quick, but today is our official hands-on and full unboxing with video and all the photos you need. It is also for sale right now if you want to run and get one.
Lets get started shall we. This is Lenovo's first Android Tablet and it comes in with some pretty great specs but similar to current offerings. Android 3.1 Honeycomb (should update to 3.2 soon) a 1 Ghz dual-core NVIDIA Tegra 2 processor, 1GB RAM, 32GB internal storage (16 and 64GB available). It packs a 5 MP camera on the rear and an upgraded 2 MP camera on front for video chat, stereo speakers that get plenty loud all wrapped up in a 10.1″ 1280×800 resolution display. The screen colors are gorgeous and vibrant and they are much better than that of the Xoom.
The rear of the device has a second layer that gives it an incredibly soft and comfortable feel in the hand, no hard or rough aluminum instead it feels more like the seats in my truck — comfortable. It's a soft rubbery texture that really makes it easy to hold and you don't feel cold metal corners. It is grippy and you wont be dropping this device on accident.
Around the bottom you have the 30 pin dock connector as well as charging and sync port, they give you separate cables for that, but sadly we didn't get a HDMI cable. The bottom also features the 3.5mm headphone jack and the micro HDMI-out. The build quality is good and it has a nice solid feel overall.
Moving along to the sides nothing is on the right and the left of the device packs the rest of the goodies. On the left side you have the Micro SD slot (pin in box opens SD Slot), the screen rotation lock switch, volume up/down, microphone, as well as the power and wake button. Like mentioned above the build quality is very good and the device is sturdy but the power button was a little off and wasn't the easiest to press for me.
I will be fully checking this device out over the next few days and will be posting a full review so I can't share all the details just yet, but I will say the pre-installed app list is huge but in a good way. Top market games, expensive apps like documents to go and even Netflix. I'll save the full list for my official review. Feel free to click and see all the photos in the gallery below in full size, as well as the hands-on and unbox video.

Lenovo IdeaPad K1 Tablet Hands-on and Unbox Video:
[vms a5a58079f0f3526c87c5]

[device id=764]