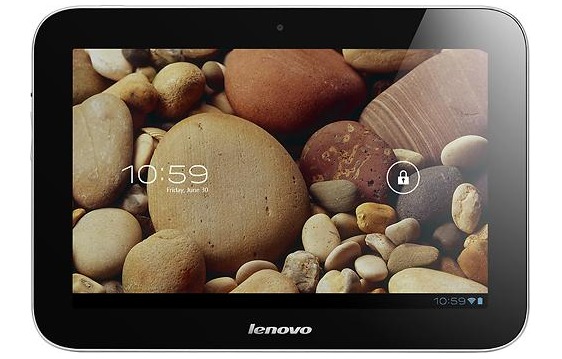 Lenovo has just announced an entire family of new Android 4.0 Ice Cream Sandwich tablets here at IFA in Berlin, Germany, and we have all the details. Today they've actually kicked off by re-introducing the IdeaTab S2110 (known as the Lenovo S2) tablet hybrid rocking a keyboard dock similar to the Transformer Prime as shown below. Then they have a quad-core Tegra 3 tablet and more. Take a peek below.
The Lenovo IdeaTab S2110 will be their flagship model simply for the fact that it has all the things you'd ever need and more. Running on a 1.5 GHz dual-core Qualcomm Snapdragon S4 processor (same as Galaxy S III) for 3G/4G LTE connectivity, a 10.1-inch 1280 x 800 HD resolution display, 1GB of RAM, 32GB of internal storage and a decent little 5 megapixel shooter on the rear.
The included keyboard dock will work in a similar fashion as others from ASUS, and will double the tablets battery life from an estimated 10 hours, to over 20 hours. Other specs include a 1.3 MP front camera, micro-SD for extra storage, mini-HDMI out options, Bluetooth 4.0 and a built-in FM radio. You'll have full Android 4.0 Ice Cream Sandwich and Google Play Store support and the IdeaTab S2110 can be yours for $399.
Next up they've also announces two new siblings that you could call better, or worse. These are quad-core NVIDIA Tegra 3 powered tablets, and one is currently available as we speak at Best Buy as one of the better tablet deals available. These are called the Lenovo IdeaTab A2109 and A2107. We mentioned these last week when the A2109 broke cover. It offers a 9-inch 1280 x 800 resolution display, quad-core, Android 4.0 ICS, 16GB of storage, micro-SD, mini-HDMI and more all for $299 — making it one of the best price/performance tablets next to the Nexus 7.
Then Lenovo has also just announced the smaller sibling — that being the IdeaTab A2107 with virtually the same specs as the version mentioned above, only comes on a smaller 7-inch frame. The A2107 will still sport a 1280 x 800 HD display, Android 4.0 Ice Cream Sandwich, as well as micro-SD and HDMI-out options but pricing on that model has yet to be announced. Hopefully it will be $249 or lower and compete directly with the Nexus 7 as we are expecting the same Tegra 3 quad-core under the hood. Stay tuned for additional details on that 7-inch model.