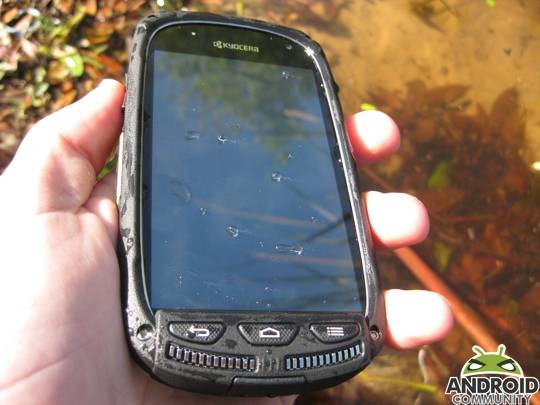 Kyocera recently announced the Torque smartphone. The announcement actually came towards the end of February and key to that, the Torque has arrived as a full touchscreen smartphone that is built to Military Standard 810G. While these rugged devices tend to not have us quite as excited as some of the other non-rugged smartphones these days, we have to say that we were pleasantly surprised. Basically, the Kyocera Torque is a rugged smartphone that seems to be able to handle the regular everyday use that we demand from a smartphone almost as well as it can handle the elements.
Hardware
Before we get into the specs that deal with the rugged stuff, lets cover some of the basics. The Torque has a 4-inch display with a resolution of 480 x 800. The size of the display initially felt small, but that is most likely due to the fact that we are used to looking at the 4.8-inch on our current daily driver. On the flip side though, we often think of these rugged products as being big and bulky and in this case the smaller sized display probably helped. Simply put, we think the smaller display allowed Kyocera to keep the handset to a size that still felt comfortable in your hand. Of course, with a product that is expected to be carried into a variety of not-quite-everyday situations, maybe anything bigger than 4-inches would have been overkill anyway.
The Torque is powered by a dual-core 1.2GHz process which is paired with 1GB of RAM. All-in-all, that pairing seemed to handle our needs nicely and while a faster processor and more RAM is generally welcome, were did not notice any issues in day to day use. A really nice perk of the Torque comes in with the battery — 2500 mAh. Again, bigger is generally welcomed here, but we cannot complain on this matter. Those considering a purchase can also expect to find 3G/4G LTE connectivity along with a 5 megapixel rear-facing camera with flash.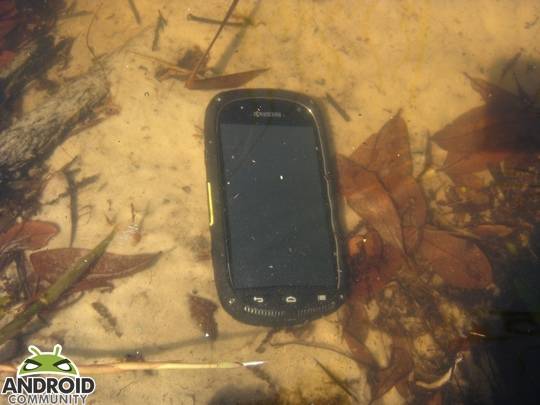 Rugged Design
While the hardware may not be the highest in terms of specs, the Kyocera Torque is meant to shine in terms of being able to handle just about anything you throw at it. The handset is built with the Military Standard 810G certification and also with an IP67 rating. What that means in simpler terms — it is rugged and durable. The Military Standard 810G certification means it can handle dust, shock, vibration, solar radiation, humidity, blowing rain, low pressure, salt fog and extreme temperatures. The IP67 rating protects the handset against dust, sprayed water and full immersion in up to 1 meter of water for up to 30 minutes time.
What can we say, the Torque arrived at the perfect time to do some testing. This little gem came along on a 50k trail run that involved some direct sun, plenty of dirt and dust and even a rather chilly stream crossing. Nothing to worry about in any regard. The Torque rode along on the 6 hour plus journey and sat nicely in the camelback pack on our back. At the end of the run, the phone had gotten dusty from being on the trail and even dirty and muddy when it was accidentally dropped.
No marks and no issues on either account. Of course, that stream crossing came towards the end of the run and it also provided the perfect opportunity to get it shiny and clean again. Again, while the specs may not be what is considered high-end these days, this phone truly shines in a rugged environment. A few other points to touch on here, the display is decent while outdoors, even in sunlight and thanks to the hardware camera button — we were able to quickly grab some pics while on the trail (without losing much time on the race clock).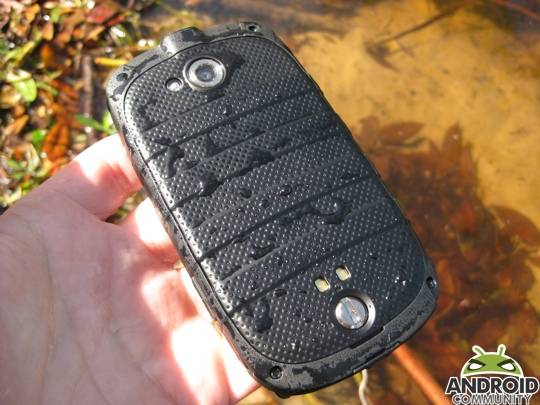 Software
The Torque is currently running Android 4.0.4 Ice Cream Sandwich. This is a touchy issue and we would be lying if we were to say that we didn't miss having Jelly Bean. But the phone was able to provide a solid experience as it stands. Hopefully a Jelly Bean update will arrive and in-turn bring some of those extra goodies such as Google Now and the improved notifications. The Torque has the Play Store and all the Google apps such as Gmail and Navigation so there isn't much that you don't have or cannot get. Otherwise, Kyocera has the handset loaded with a few extras such as an LED flashlight and a panorama image app. The UI is clean and shouldn't provide anything to complain about. In fact, aside from being used to using, and not having Jelly Bean — the Torque had enough to keep us happy.
Benchmarks
Given the specs for the device we were not expecting super high scores on the benchmarks, however as usual we grabbed some just for reference. Speaking a bit more real-world though, daily use didn't result in any major performance issues. The overall performance was good, even while running multiple apps such as Slacker Radio or Audible along with RunKeeper. In fact, assuming Kyocera is able to upgrade this to Jelly Bean, we suspect the handset will be that much smoother. You can get a look at those benchmarks below.
Battery Life
As mentioned above, the Kyocera Torque has a 2500 mAh battery, which was rather nice to see. Certainly not the biggest battery around, but all things considered, it was nice to see. Of course, it was that larger battery that helped to keep things up and running while we were, well, out running. Those who use their phone on an average (moderate) level should not have any concerns. As for us, we were left looking for the charger before the day was over. But truthfully, that was probably more due to the fact we were purposely trying to go hard and put this phone to the test. Basically, we would say the standard rules apply, the more you have the display on and the more you use battery killing features such as GPS and video playing — the more you will have to pay attention. But again, we saw no immediate cause for concern.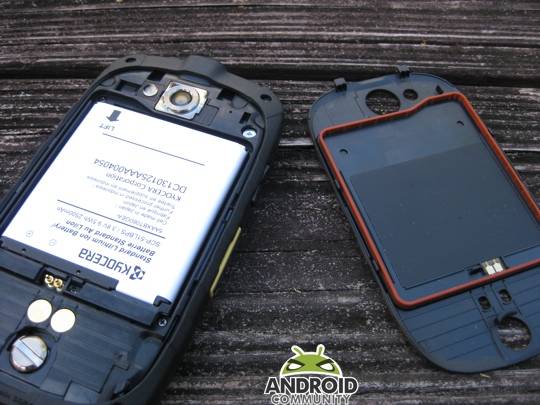 Camera
While the Kyocera Torque does not claim to have a top of the line camera, we suspect there will be some looking to get pictures while they are out on adventures. You know, out in the field so to speak taking advantage of the rugged design. That being the case, we included a few sample images. These were taken on a day with full sun, which probably helped a bit. Nonetheless we had no complaints, and neither did the folks we shared them with. You can get a look at the images below.
Wrap-Up
While we are not convinced to drop our regular phone in favor of using the Torque on a daily basis, it did cause us to rethink the whole idea about a rugged phone being usable. Little secret here, while a rugged designed would probably be ideal for much of my use, I have sort of hated them in the past. After using the Kyocera Torque, not so much anymore. Bottom line here, the hardware is nice, the software is good (minus the part about no Jelly Bean) and overall we really like that it can be taken out in the rain or even rinsed off in a stream after dropping it in some mud.
[device id=4514]