You've been seeing the hashtag #NaNoWriMo but you still don't know what it is. So what's it all about? This whole month of November, expect to see your writer friends (or even wannabes) attempt to write their first novel. NaNoWriMo stands for 'National Novel Writing Month' which is a writing project campaign held online since the year 1999. It's been almost a decade of pushing people to write creatively and start following their dreams.
Unlike two decades or even centuries ago when you have to write your novel on paper or use a typewriter, writing can be easier now with all the gadgets, information, and materials available. For the mobile technologist, you can use a laptop apart from your desktop computer, tablet, or smartphone.
If you're the one attempting to write and publish something, you've probably tried to write on almost anywhere…even on a table napkin? But you know, it's not too hard these days because we have almost everything. Productivity is never a problem with all the tools. Your only enemy is yourself. Your biggest challenge is writer's block. But when inspiration hits you, you have one thing to do: write. Sounds easy, right? Maybe.
For the modern writer, you have all the productivity apps you can think of. We've tried a few programs and applications in the past but there are some that we find really helpful like the JotterPad. Back in 2015, we did say it's a writer's delight, saving work in multiple formats. It took almost two years for its developers to come up with a newer version. We tried the JotterPad 12 beta version earlier and now we're ready to take it with us everywhere.
So this National Novel Writing Month (#NaNoWriMo), we'll attempt to use the app more often which is ideal for the writer wanting to finally write that screenplay and novel. Two App Studio has designed JotterPad as a plain text editor sans the distraction. It is a word processor but with a much cleaner typing interface. It's probably one of the best and most useful today.
JotterPad has everything for the writer. It looks simple but it has many features for the writers and editors. Feel free to use different typefaces and typography you can customize. If you need to edit, you can do so in Cloud as the app can be integrated with Google Drive, OneDrive, or Dropbox. To help you some more with your writing tasks, there's a built-in dictionary, thesaurus, and rhyming dictionary.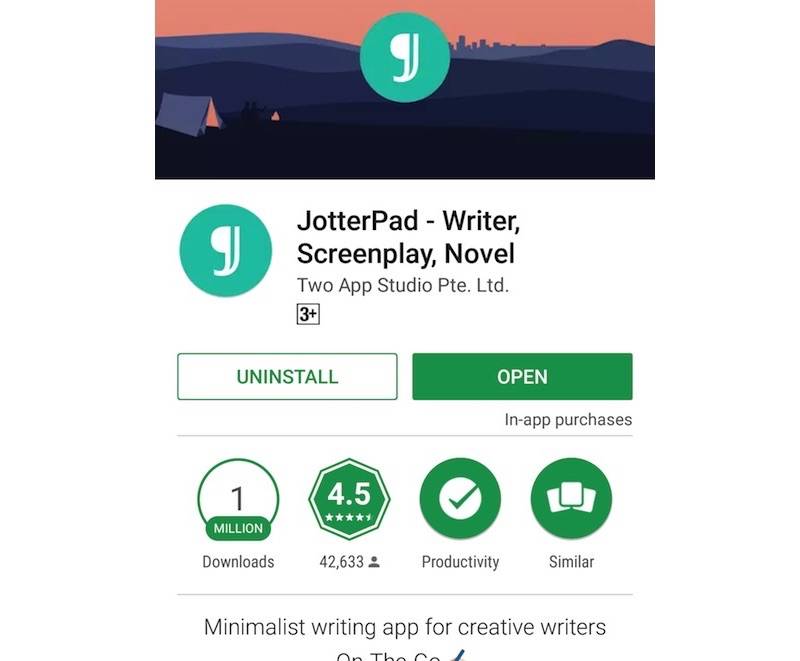 The app is free to download but as expected, there are in-app purchases available. JotterPad has already hit over a million download. The writing app for creative writers is definitely minimalist and simple to use. You see, in writing, you need to have fewer distractions so you can finish on time. Whenever there is a deadline, you need to take every opportunity to jot down your thoughts. JotterPad can be your go-to app for say, 2AM or when you're commuting, and then inspiration hits you hard and you don't have a computer with you.
Premium features are available to purchase. On some screens, you will be asked to 'Get Creative!'. It's a prompt for you to unlock some features including a Custom Typeface, Markdown preview & syntax highlighting, Dark theme, Typewriter mode, Thesaurus and Rhyming Dictionary, Snapshots, Remove PDF watermark, and Docx & Rtfx export.
The Pro tier unlocks more features: Manage screenplay, Fountain preview & syntax highlighting, Character & syntax prompt, Print fountain script to PDF, and Export to Final Draft 10 (.fdx). When you get this, it already includes all Creative features.
The Cloud+ option allows you to add a cloud service so you can edit on-the-go.
The app interface is simple:
You will see all documents you have. Default file type is TXT but you can pick another one more suitable. Create folders to keep things more organized. Make sure you properly label them so you know where to get your documents. You can sort your files by Title, Date, and Kind if you have too many files saved.
The typing interface is really simple. A blank slate is perfect for the cluttered mind.
We like many things about JotterPad. The Cloud integration is useful because we can conveniently write anywhere. Even offline or when not connected to the Internet, you can still work on that novel or article. The app will sync when your device goes online. Researching for words or phrases is easier. You can use the rhyming dictionary or thesaurus when you need words to write and express what you mean.
Overall, the JotterPad is easy and convenient to use. It's snappy and responds to you quickly. Such is important because a writer doesn't need any more drama when writing. If you want a no-nonsense text editor, then this one is for you.
Download JotterPad from the Google Play Store